Kiteboarding Australia (KA) and KB New South Wales NATIONAL TITLES – SYDNEY 2015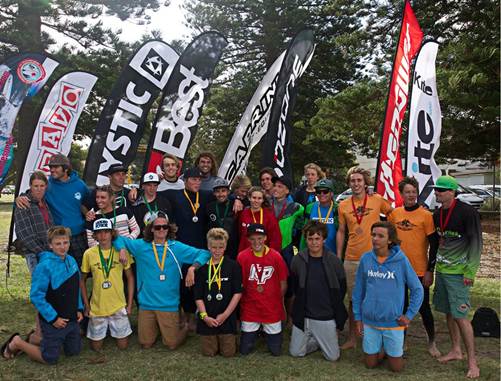 We've already posted Kye Evans wrap but this is the official overview WRAP from the organizers:
Last weekend's 4 day wind extravaganza at the NATIONAL FREESTYLE TITLES was one for the record books. Our sport needs wind and we allow a 4 day window to hopefully catch a day's kitable wind and find our Aussie Champions! Well, it was windy… for 4 days! Never have I been involved in 3-4 days of 20 knots plus wind from near sun up until sundown. This resulted in a real test of all volunteers and staff to work the long hours and put the competitors through the heats testing their skill and endurance. The " SYDNEY 2015 Nationals – one we will never forget! "
The Juniors Under 16's were out in force, making up 60% of the entries. Yes, some decided to enter & challenge the MENS OPEN division and came close to upsetting the high score tally's. The Sydney Nationals overall were up 25% on numbers compared to last year's Melbourne titles, a great sign of acceptance.
It was also great having KITEPOWER on board as the guys from the shop were always on hand to offer any assistance where needed. Saturday morning they were giving Free Kite instruction to the public – along with Jarrett from Sunshine Coast kitesurfing, successfully converting some onlookers! The Saturday morning BRAVO Pump Beach Relay was an unexpected "hit" with the crowd. Di Sellar – came up with the idea of a race to blow up your kite, sprinting 100metres to collect each item of your gear and be the 1st to launch, winning an electric BRAVO pump!
Thanks again to our fantastic sponsors – Cabrinha, Ozone, Best, North, Mystic, Exult kite wear, Kitemag, Bravo Pumps and Freedom magazine for their contributions.
Kiteboarding Australia and KB NSW hosted the event and also need to be congratulated for their input.
Antoinie Sabourin, President of KB NSW was always on hand to help – and he put on a mighty show of Kiteboarding skills in his heats. Our judges, Elliot Drury, Ewan Jaspan, Dan Sweeney and Jarrett Stock were exceptional in their dedication to sitting in high winds scoring heat after heat. Thanks to Simon Wichtermann for his commentary too.
Official Results: Freestyle 2015
U16
1-Manny Blanch
2-Aaron Kenny
3 Kye Evans
U18
1- Luke Smith
2- Matt Buchanan
3-Ryan Hamer Parsons
Masters
1- Rich Stenning
2- James Grundy
3- Rob Sellar
Women's
1- Marine Sudre
2- Katie Potter
3- Sammy Pearce
Men's