Susi Mai has long been one of the most high profile female riders out there. She's also been one of Cabrinha's longest standing team riders. In a move not that different to her former (and future) partner in crime Andre Philip Susi has turned her back on a full Cabrinha deal to take control of her own vision for what a woman's kiteboard can be – it will in fact be called the 'Eden'.
As Susi said on the move – It all started one summer when Dre was in my home town, Cabarete, in the Dominican Republic. We rolled up to our favorite kite spot La Boca and unloaded our gear. At one point I randomly walked past Dre's board lying in the sand and stopped in front of it. Holy shit, my bikini matched the colors on the board so exactly it was almost a joke. I picked it up and yelled over to Dre, "Check this out it's almost like I'm a Tona ad!" *Click* Jason Lombard, our photographer, snapped a photo. Dre looked at it and laughed: "Well you know we would definitely love to have you if you ever decide you might want to join us". And that was the moment when the wheels in my head were set in motion.
You guys might remember that a few years ago, I was given the opportunity to develop the first ever full range of gear designed specifically for women. I've always been a big advocate of female kiteboarding, because I know first hand how much girls need other girls to inspire them, especially when it comes to as intimidating a sport as kiteboarding. Personally, I didn't have any interest in kiting until I saw Laurel Eastman, the first professional kite-chick that ever came to my home town in the DR. Head full of studies, boys and video games, I was your typical teenage girl; distracted and a little cautious, and in that respect, very lucky to have had such an inspiring role model as Eastman at hand as I took to the waters of this extreme sport for the first time. And fell in love. That first day I was able to kite all the way out to the outer reef at Kitebeach, I remember sitting in the water and looking back at the beach and feeling so damn free, that I decided right there and then that everyone should get a chance to look at the world from this perspective, at least at some point in their lives.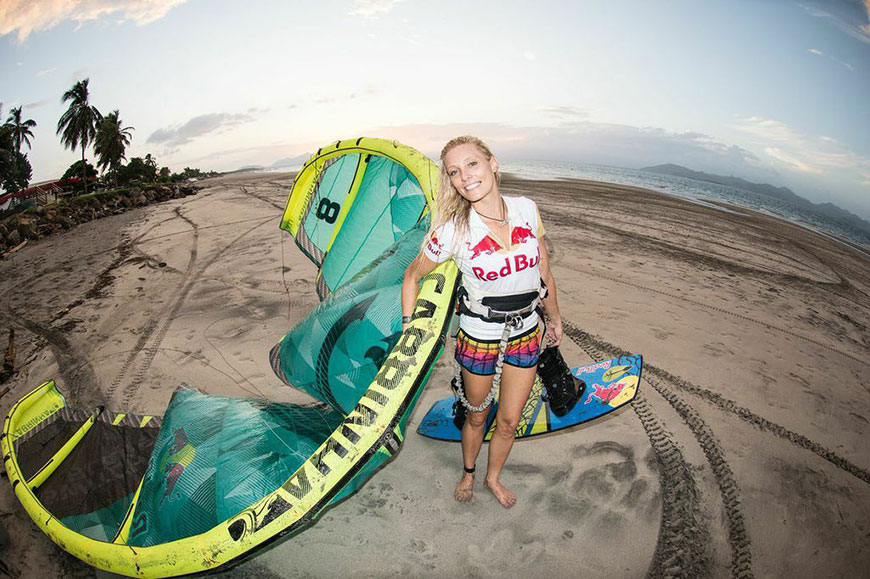 Eight months later, I entered my first PKRA event and to my own (and everyone else's) surprise, made it all the way into the finals, going head to head with the reigning world champion, the legendary Cindy Mosey. I was young and carefree enough at the time to jump at the first opportunity that came my way in the form of Gaastra Kites who offered to sponsor me to do the rest of the tour in 2003. That was the same year I went on to win my first ever contest, earning the coveted title of the "Red Bull King of the Air" competition in Maui, Hawaii. I then went on to compete on the PKRA for eight seasons until I blew my ACL and was forced to take a step back from competing. During that time I started working on more media projects and kite camps, and began my transition away from competition riding. I embraced the change though – enjoyed traveling to new places, meeting awesome people and taking time to inspire girls to get out on the water – and as I did all that, I realised that in my kiting life, there was one constant: Dre.
To this day, Dre remains my biggest mentor and role model. It was he who introduced me to Pete Cabrinha over eleven years ago, and since then, he's always been one step ahead of the game. From the moment I signed with Cabrinha on Valentine's Day in 2004, it felt like Dre and I were family. I know he doesn't like all this praise but there you go, it's happening, Dre – so suck it up. I made the switch to Tona mainly because of you. Or at least you were the reason I actually seriously considered leaving Cabrinha – before that photograph was taken, the thought had never crossed my mind. After that, as the weeks came and went, the idea wouldn't leave my head – and the more I thought about it, the more sense it seemed to make to join Dre on the next adventure and create something fresh and exciting.
But don't get me wrong, I love Cabrinha. I owe them a huge part of my career and I am honored to be able to call myself part of what I consider to be the most legendary kite team of all times Team Cabrinha. Pete has always been our fearless leader, he is a living legend and I am so thankful for the many valuable things I learned from him but I'm now stoked about the move to Tona because it opens up a whole new world of opportunities for me to take the women's side of kiteboarding to a whole new level. We came up with the name EDEN for my first board, and I'm really excited to say that we're almost done with the graphic, and will hopefully have something cool to show you all very soon.
Oh and the one thing you guys are still probably wondering is what kites I'll be riding next year? The answer is easy: My favorite ones.
More over here as the Eden comes life… www.tonalife.com