From Issue 2 – you can buy it here!
Pics and words by Jason Wolcott
A to be left nameless, world renowned strapless kitesurfer, who I actually consider to be the best in the world or at least in the top 2 called me one day a few years back. He said "dude, who the hell is the rowdy jackass? What is he trying to prove by attacking me on the forums?"
I had to be honest with him and told him I had no idea what he was talking about.
"I'm going to buy a ticket from LA to AUS and rent a car. I'm going to drive to his house, knock him out, eat some fast food, return the car, and get back on the plane…"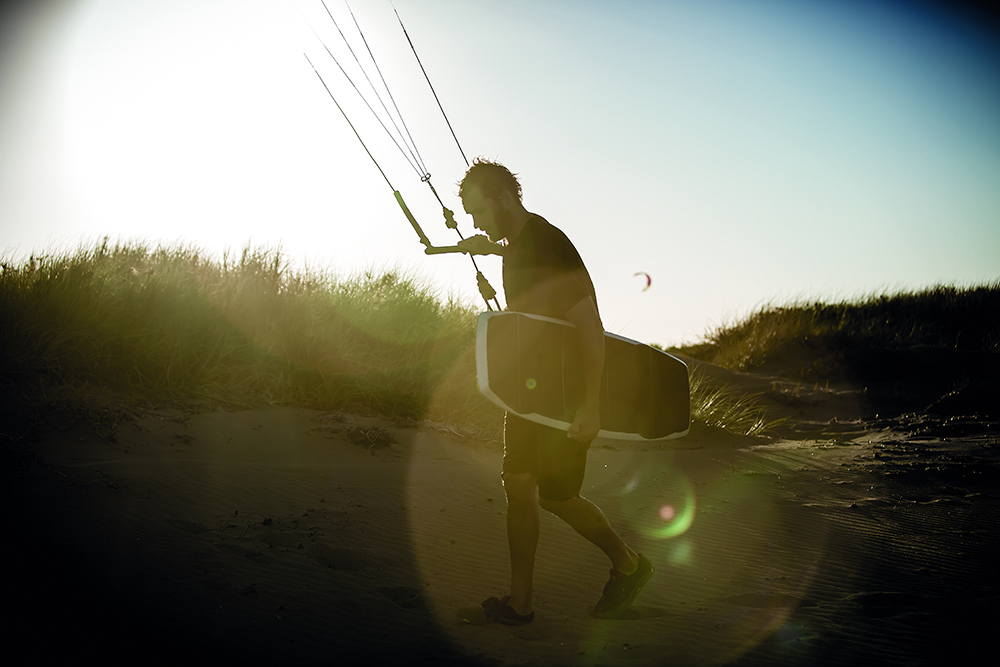 Ok, now you really got my attention… I mean, this guy is a pacifist, except when he got banned from the local hockey league for fighting… What could this Rowdy guy have said that made this kid so pissed off? I had a look at the forums and had to admit, some of the stuff was pretty gnarly, but pretty true too. I mean, he had a point, although it was a bit technical for my liking and brain capacity.
I heard from a few of the guys that were in WA that I was coming down to shoot with say Rowdy would be there… I played ice hockey for 12 years, and know how to stick up for a teammate… I had planed on saving my friend a flight and knocking him out myself… but hey, I'm a pacifist too… now. So I decided to take some photos of this opinionated fellow and interview him to see what makes him tick.
I had a 5-hour car ride with him (Rowdy) in the bag before I started rolling tape, so I had a good idea of the questions I wanted answered… all but the bit about Bigfoot and America.
As luck would have it, I found this Rowdy guy to be ok… I mean, yeah, he has an opinion about a lot of things and is not shy about sharing it… but that's not a bad thing. The fact that he is so passionate about the sport is admirable whether you agree with his stance or not. Needless to say, he still has his front teeth, my buddy in Cali still needs to buy a plane ticket, and you have one hell of an interview in front of your eyes.
Why do you have so many names?
My great, great, great grandfather joined names with his wife and it's been like that ever since. It's pretty annoying because my name doesn't fit on forms and usually they leave the hyphen out or something and then can't find me in the system.
How long have you been kiting?
Since 2002.
You seem like a pretty talented guy around a board… why kiteboarding?
Well my dad and uncle were into windsurfing so I originally got into that, I guess it was a natural progression from there to get into kiteboarding.
I took a look at your blog after having a nice giant jack and ginger to settle my nerves… I actually read some of your posts… the glass eye guy was a pretty noble act. What else do you do in your spare time other than saving overdosed one-eyed f***kups?
Hmmm, that guy was scary. I guess boardsports obviously, skate, surf, wake, but if I'm not outdoors I like mucking around designing graphics, reading articles or just stirring up the internet and getting people skitzy.
What the hell is a rowdy?
Ask Bill Crang.
You told me that you are a professional vagrant, please explain?
va~grant
a. One who wanders from place to place without a permanent home or a means of livelihood.
b. Archaic A wanderer; a rover.
2. One who lives on the streets or constitutes a public nuisance.
3. An animal occurring beyond its normal range; an accidental.
Pretty well classifies it ha ha.
How many stamps do you have in your passport?
No idea, it's getting pretty full, but I've been to a lot of beaches ha ha. I wouldn't mind travelling to a few more out there places.
How has travelling changed your perception of the human race?
I don't think it has really changed my perception of people too much as most countries have some of every type of human; what I think it has changed was my perception of my own life and how lucky I am compared with what others have been dealt. I make a lot of jokes but I'm honestly grateful for the life I've been given, I can't thank my parents enough to have raised me where they did.
Sometimes you seem to be opinionated, what do you hope to change/gain by telling ignorant people they are ignorant? Will it shift the balance of power in the universe?
I don't hope to gain anything really, usually I just hope I piss someone off ha ha. I dunno, the internet has always seemed like such a funny thing to me. People get angry just reading text that they don't even fully understand the context it's written in, or get angry over some stupid social media thing… I find it fun to play with that, I guess it's all pretty stupid really. If you're talking about my views on kiting I guess I just hope to push the sport to progress forward in some way or another.
What are a few things you always bring along when you travel?
Laptop, passport, camera… are you going to rob me?
What keeps you motivated?
Different things all the time, mainly I stay motivated though because I don't get stuck on the one thing. I do lots of different sports and ride lots of different boards behind the kite, just like kiteboarding should be.
In your opinion, who is the most annoying person in kiteboarding?
Jeezus… probably Ewan Jaspan ha ha. Nah, he's annoying but there's worse people for sure. Kiteboarding has tons of people that are on a wacky level just claiming and writing bullshit around the place, I wouldn't know where to start. Maybe me?
What are your plans for the next few months?
Off to South Africa and then onwards to Morocco after that.
How can we follow your movements across the planet?
Though the teachings of the misguided… seriously though you can just check out all my stupid social media things that people need to have to be considered as a "pro kiteboarder" these days…
@le_tranq
alexanderlewishughes.com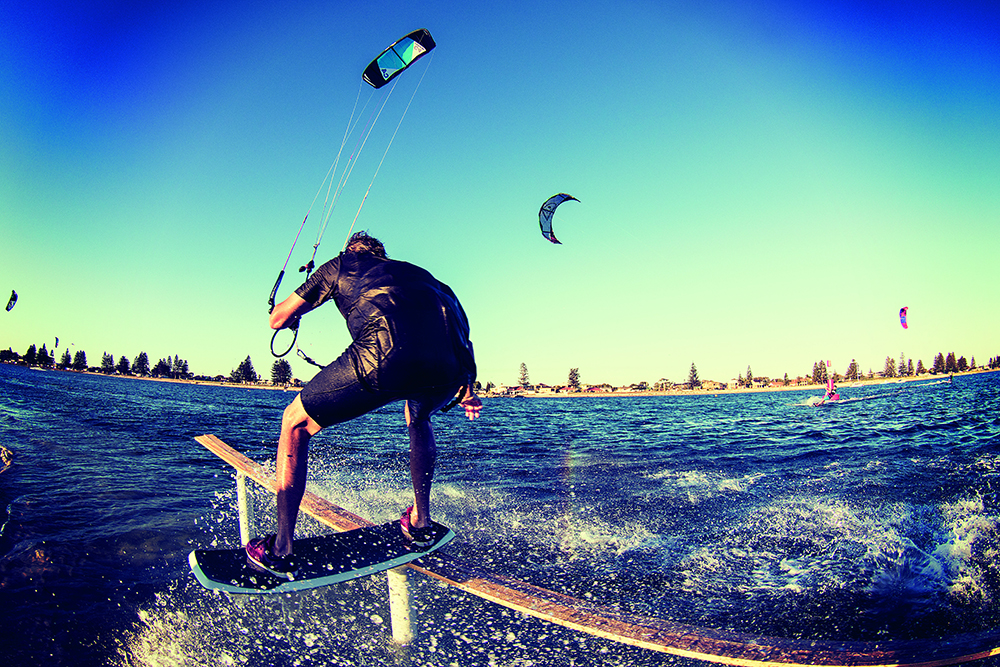 Why have most of the top riders stopped caring about unhooking?
Because they don't have to.
Most kite brands are stupid, for the most part they don't know who is or isn't a good rider; most of being a pro for a lot of brands is about coming from the right market and knowing the right people. Why put your body and equipment on the line for the sake of progression if you can just go out there, relax and have fun? I think that's a big factor for most riders, add to that that people have kind of started to accept that it's ok to just stay hooked in and you've got you're answer… Imagine if pro wakestyle riders just started riding hooked in again, it would be exactly the same thing. Sometimes progression is hard, it takes a few talented individuals to show everyone what's really possible. Wake skating/skateboarding is a perfect example of this, people once thought that even doing a kick flip was impossible, now you have unknown shredders around the globe doing the unthinkable… it's all time and effort, people just have to be committed enough to take it there. Kitesurfing is no different. Hell look at Lou in 2001-2 compared to everyone else and how most kiters then reacted to what he was doing…
Is unhooking really that big of a deal? I'm talking about surf style for the most part, I get it when it comes to wake style… but for surf style kiting? Is being unhooked that important? Don't try and sell me that stale bullshit about how it opens you up and lets you do better turns… really… what's your opinion on this topic?
Depends in what context you're talking to me about it in ha ha. Is it a big deal to my dad or other guys down the beach? No. Why? Because they aren't trying to prove or progress anything, they are just guys down the beach having fun. Is it a big deal if you're paid to be a "kitesurfer"? Yeah I think so, because ultimately if you're paid to do that, you're meant to be the best of the best, your job is to progress the sport and push whatever you're doing to the next level… hanging from a 40 foot chicken rope with your kite at lunch isn't progressing anything. If you get it for wakestyle, then you should get it for the same reason for surf style… all the same arguments could be made for both, wake skate as well.
What do you wish kiteboarding had more of?
I wish it had more companies that were rider owned and run and focused more on sponsoring and promoting kiteboarding as a legitimate board riding platform. Most kite brands these days (along with the amazingly bad media surrounding the sport) are solely to blame for the image portrayed of us as they are the ones pushing the riders and telling them what to do… so if they have no idea, then what hope do we have as a sport?
What is the worst thing about kiteboarding?
There's lot of things that I don't particularly like, I mean I do love doing the sport but certain things definitely get me annoyed. Pretty high up on the list for me would probably be the way pros and people associated with the sport act. What am I talking about? Well, just the way so many people are basically putting on this big fake act… they walk around telling everyone how awesome everything is and how stoked they are all the time about kiting, but behind closed doors they are super bitter and talking shit about lots of stuff. The more people you get to know in kiting the more you realise that this type of person is basically the norm. Kiting is boring and fake. Other sports have lots of people that aren't afraid to publicly say what they think about different things involved with the sport, but as soon as you do that in kiting people think you are a c#nt… Just because you have an opinion doesn't mean you are hating on something, or someone. People in kiting can't seem to separate having an opinion on brands, tricks or things from having an opinion of the person related to those things.
What do you think about the whole king of the air contest thing?…
seems like a completely different take on kiting?
To be honest I'm sure people probably expect me to say its shit ha ha. I don't actually, I think it's cool because it shows another side of the sport and it's something that's pretty unique to kiting. What I do think though is that it has garnered far too much hype and respect. I mean ultimately probably the best guy in this competition (Hadlow) is doing it for a laugh. What do I mean? Well Hadlow isn't out there everyday training to do big loops and boosts, he just goes in the event because he knows it's good for his profile. What's he doing the rest of the year? Training hard on pushing himself and progressing the sport. Other people in this competition try to push it like it's the biggest most progressive thing in kiteboarding, because really for most of those people it's all they have… I think that it's only natural for people to do stuff like that, but the problem is that people who don't know any better start to actually believe them. Most the top 30 world tour riders could likely place well in King of the Air, the same could not be said in reverse. I think the event is great, but ultimately it needs to be taken with a big grain of salt.