All words and pics: Ollie J
Music in video: https://soundcloud.com/jesswah

Rodrigues is a small island, one hour's flight from its big brother, Mauritius. There are waist-deep swimming pool-esque lagoons for miles, beautiful remote islands to explore, and with a windy season from June to October it's the perfect winter escape for Aussie kiters. Relatively unknown to us Down Under folk, I must say that is one of the coolest things about travelling to a place like this – none of your mates have heard of it!
How to get there
A direct flight from Perth to Mauritius (about $1200 return), then another local 1.5-hour flight ($300 return).
We flew Air Mauritius, which was an enjoyable experience. Tourism is the island's biggest economy booster, so the airline staff seem quite flexible with excess luggage. Be warned, the smaller local flight to Rodrigues is stricter with luggage. Just have a great story for your trip and you should be right! (It might pay to try and pre-arrange something with the airline or one of the guides mentioned in this article).
The Location
Rolling grassy hills, free-roaming sheep and goats. Fabulous white sand beaches on one side, volcanic the other. Very friendly locals, with a very safe close-knit community feel.
The locals walk everywhere and smile and wave, but hire a scooter and explore the whole island, as there are some fantastic places to see. The giant tortoises are a must!
The roads are pretty good (much better than Indo), and some of the winding trails through overhanging tropical jungle, with high views overlooking the fluoro-blue lagoons are mesmerising.
While the locals do speak some English, study up on some French as it will get you a long way. Either that or start playing a lot of Pictionary and get good with charades!
At just 100km2 with only 40,000 locals, Rodrigues is generally a sleepy island. But on this occasion, we were heading there to check out the Rodrigues International Kitesurfing Festival (RIKF), so the small town of Port Sud-Est was bustling with the pre-comp organisation.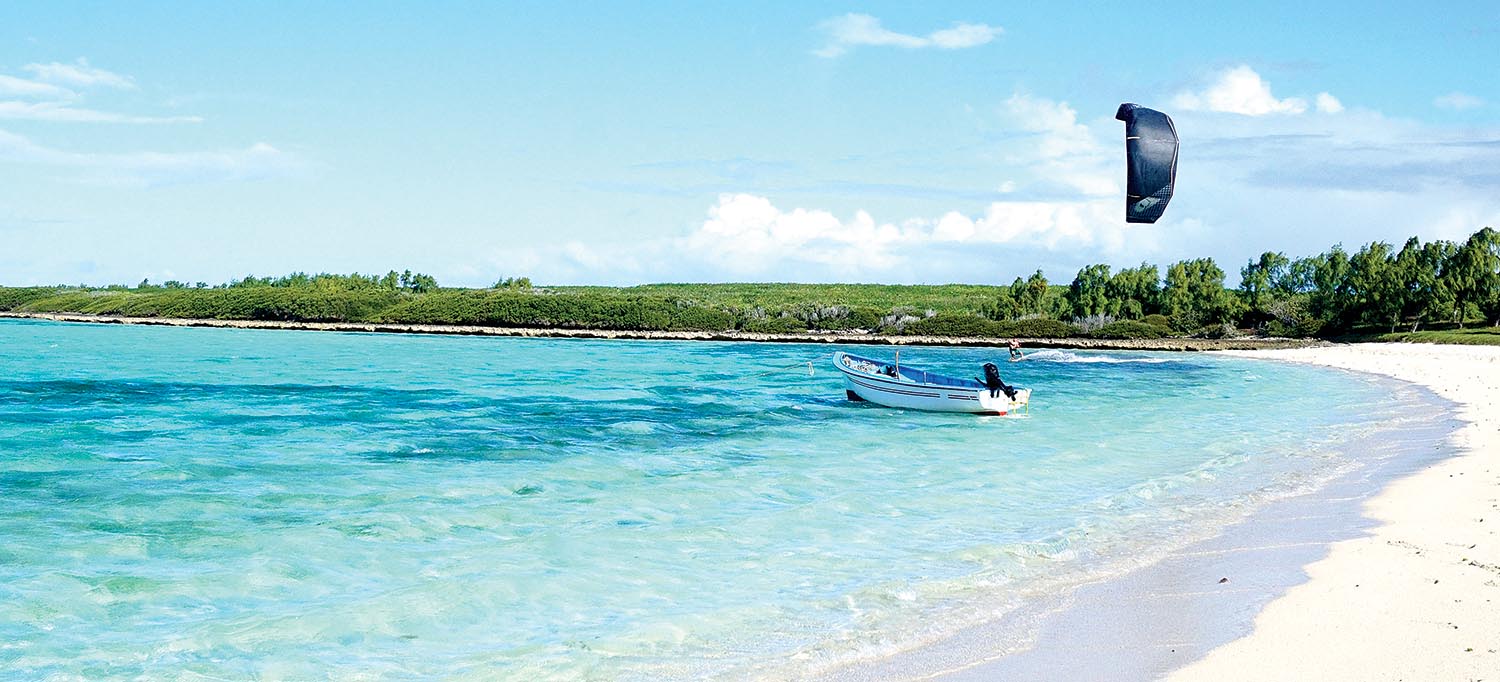 The Kiting
Crystal clear, blue water lagoons for miles and miles!
On high tide (about waist to neck deep) you can go everywhere! Low tide you can still kite anywhere, but it's harder for the boats to follow you. If you're skilled, you don't need boat support, but it's still recommended. When it's windy, you could easily tack back upwind, but like any unfamiliar spot, always have a buddy and a back-up plan if things go south. The local fisherman will always help you out for a few bucks if you get in a sticky situation, but as the lagoon is so shallow you can walk if you have to.
Reef shoes are recommended as there is some damn sharp coral.
Where to stay
We stayed in some very nice beachside private apartments called La Belle Rodriguaise (means the beautiful lady). The coolest thing about this place is it has a private beach out the front so you can rig up and kite to wherever you please! Most days we would kite to town, check out the comp, buy some supplies, then kite back again. Such a cool way to get around!
Costs: Accommodation and food costs are reasonable, similar to prices in Australia. Beer is cheap at about $20 a case! 😉 Rum is super cheap and super lethal… be warned!
While we were there the wind was relatively light. We were expecting high winds, but out of the seven days we stayed at the end of June, it was only 15-20 knots with a couple days reaching 25 knots. We were told this was a bit abnormal, so take a smaller kite.
Is it safe for a single/solo girl traveller? 
Yes, very. It's a small coastal, country-like community. Crime is very low. If you do hit the dance floor in the local bar expect a circle of smiling locals all wanting to dance with you, but from what we saw everyone was very respectful in this way.
Bars: The best local bar we went to is called Wilies! Ask around and you will find it. It seems to be the hub for the local kite shop operators, so great for guide contacts too.
The RIKF Festival.
Wow, what a kite comp! Hands down the best competition/festival that I have attended. I must admit, I have only been to a few, but this one is winning all the way!
I'm talking a three-day local music festival, with acts from all around Mauritius, Reunion, Seychelles and France. It was set up right on the beach with cheap beers and lots of local barbeque stalls. Reggae vibes all the way! If you don't like reggae, too bad! You're on a tropical island. Everyone loves reggae and so should you!
I was asked to DJ at the festival, which was a great honour mixing it up with the local talent, who kicked my arse in DJ skills. The locals weren't 100% sure what to make of this curly haired Aussie playing Hilltop Hoods but they were all super nice and danced/grinded/daggered away (look up daggering on YouTube).
One day I parked my scooter on the side of the street, and right in front of me was a poster for the festival with my big noggin on it! Haha classic.
So, the conditions for the comp were ok. It was a bit light, but held in there. The sun wasn't playing nicely so there's not a lot of pics to show, but this sequence of 'A Heart Attack' I snapped of wonder kid Simon Lamusse from Mauritius (who won the event) turned out pretty cool.
The highlight for the comp for me was the giant downwinder where all the entrants kited the grand 40km lagoon stretch to Isle Corte, where a massive barbeque was set up.
It was here Simon Wichterman decided to go all Nick Jacobson and airdrop off the cliff face! Luckily, he kept his legs and the locals hooted and screamed all the way back to the bottle shop, La Boutique.
Sharks: We didn't see any. The locals say they're no problem as they are all outside the reef.
Temperature: Windy season is their winter. The water temperature is about 23 degrees, so when it's windy it can be pretty cool. Especially when it's overcast, which it was 50% of the time. A spring suit or similar is recommended.
Main local dish you will eat 1000 times:
Octopus curry! It's nice, try it. And try it again…and again! The locals laugh about this, saying in one week here you will eat more octopus than in your whole life. There's some fine dining at the handful of larger hotels, but the majority of meals you will probably have at the local home-style restaurants scattered around. Otherwise, your hostel/hotel should have this covered for you. Don't be afraid to indulge in the local barbecues. The locals are great at cooking char-grilled pork sausages, chicken wings and fresh fish. I didn't have many vegetables the whole time I was there, so if you are a vego be warned. I'm sure if you let your accommodation know in advance they will help you out.
Could I take my family/partner?
Rodrigues is an incredible spot to learn how to kitesurf. So, it's perfect to let the local instructors teach your partner while you shred the outer lagoons. Or if you're game, teach your partner yourself (Freedom Kitesurfing is not liable for any marriage break ups!). Right out the front of La Belle Rodriguaise is a perfect, sandy waist-deep lagoon.
Apart from kitesurfing, you can cruise around on a scooter, go zip lining, cave exploring and visit a very cool tortoise reserve. But if you are there to kite, then expect it to be windy so you will be busy doing this!
The local community has welcomed kitesurfing with open arms, so there are plenty of people on the island who will happily help you out with planning your adventure.
We dealt with three super cool people for our trip who helped with boat support, lessons if you or your partner need them and just great local knowledge.
www.facebook.com/albert.andy.108
Andy from Andy Kite Surf is an expert boatman and kite instructor. He took us out to explore a very nice left-hand wave. It's off limits to the general public so make sure you hook up with him if you want to check it out.
www.facebook.com/richar.jolicoeur.5
Bobo is super cool and runs a popular kite school. His happy-go-lucky attitude is catchy and you're guaranteed a good time learning how to kite with him.
www.facebook.com/raboude.youl
Yule is a great kite instructor with boat support, and an expert fisherman for when there is no wind. And ladies, he looks like 50 Cent!
We highly recommend hiring the services of one of these guys for boat support and undertaking the massive downwinder trail! It's about 40km of pristine lagoons with some choppy waves on the outer reefs. If you chat with your guide they will set up a barbeque for you at the end of your run.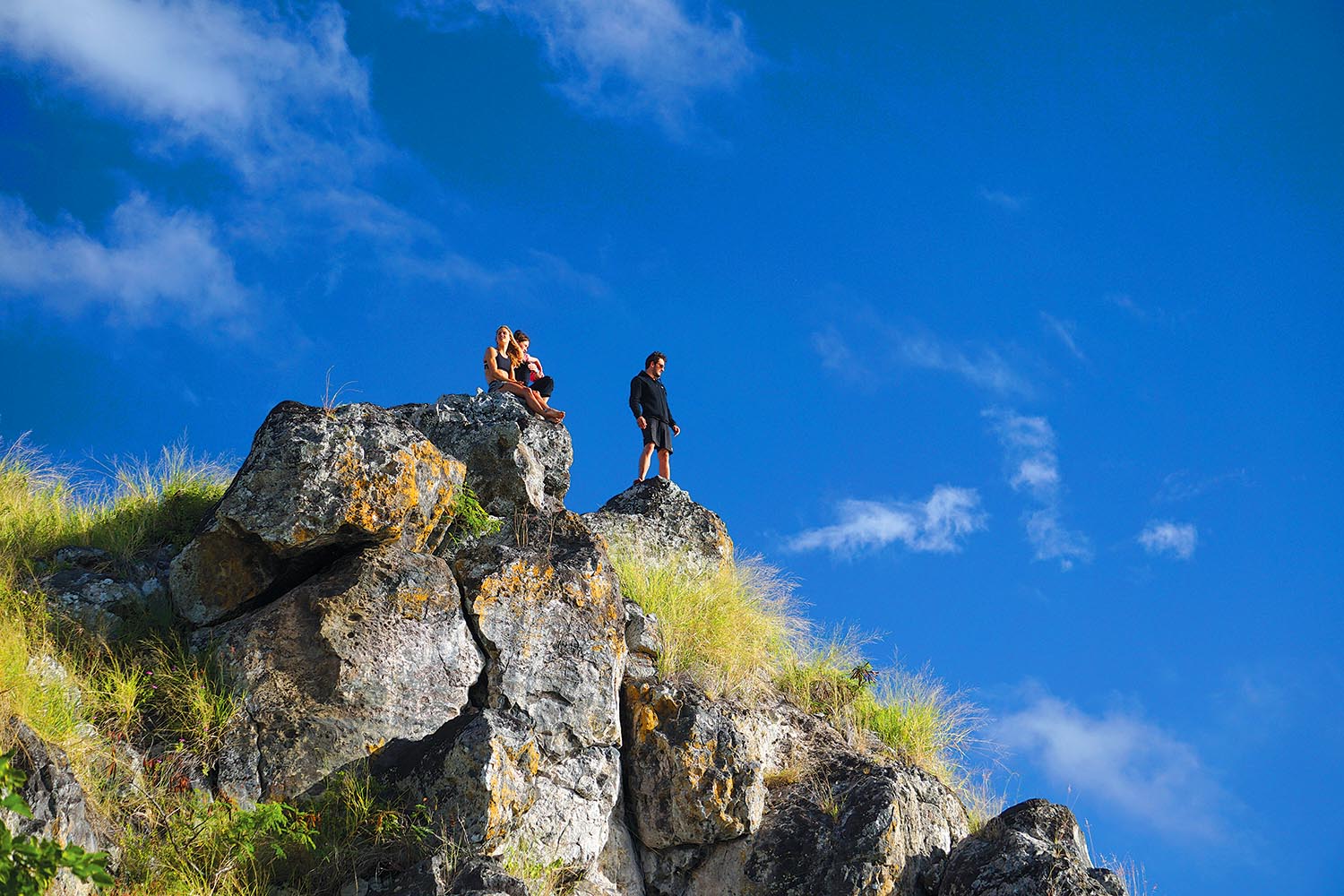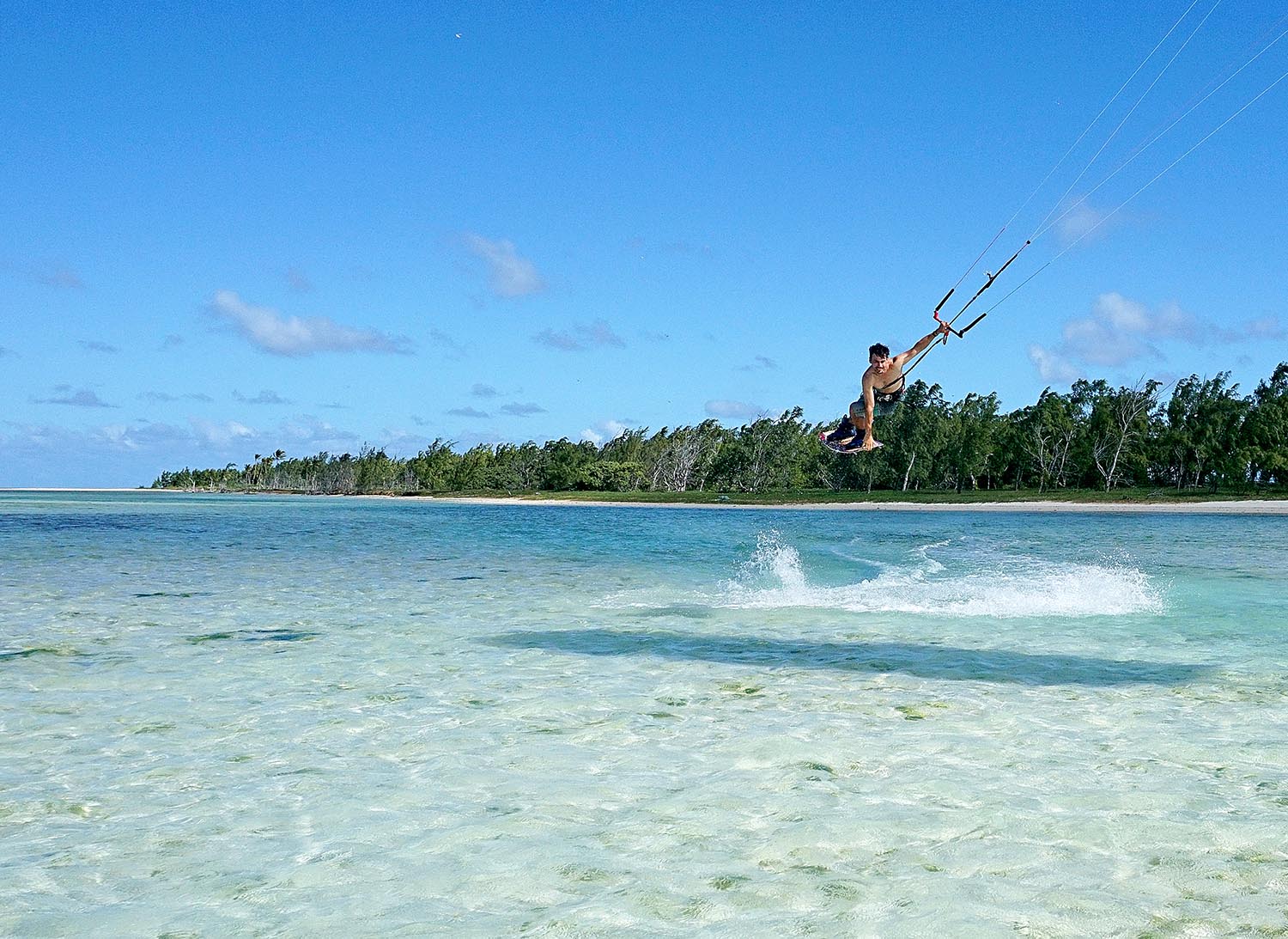 .