Sale!
Product Description
FREEDOM ISSUE II is now currently on newsagent stands Aussie wide or subscribe and score a free hat & shirt! (for a limited time to Aussies only sorry)!
Or if you would just like this issue add it to the cart and you will receive it with a *free set of steak knives to your door 🙂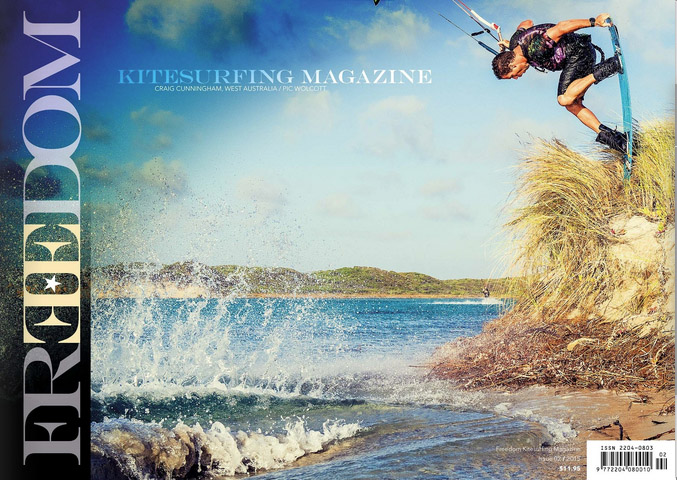 This issue is an EPIC 116 pages of full on action and no filler!
In this issue:
• FREE Cabrinha 3d Glasses and crazy 3d photos from Nick Jacobsen.
• The WEST AUS special… that's right, 16 pages of content from possibly the worlds best kiting destination, Western Australia. Shot and scribbled by our one and only Jason Wolcott.


• Freedoms own detailed how to/steeze factory continues…. This issue we focused on freestyle and wakestyle tricks from Christophe Tack, Liam Whaley, Sam Light & local rippers Andy Yates, Sammy Pearce & Josh Stephens.

• We dig deep into notorious forum dragon but real life all round nice guy ROWDY – Alex James Lewis Hughes.
• Sam Light delivers the goods with his recent trip to Aus and a sweet article on freestyle riding and tricks in the waves.
• MIND BLOWING pics from team Slingshot in Barra Grande Brazil.
• Tropical island wonder kid JAKE KELSICK shows us some of his favourite places in the world… this Andre Phillip prodigy just oozes style!
• Pig dog barrel sniffer ROB KIDNIE Tells us his dirtiest secrets from behind the green curtain… you never heard of Rob? You will now!


• Best Kiteboarding photographer Miguel Willis gets KO'd on a dirty indo reef and spills his blood and beans to FREEDOM…
• BEN WILSON gives us the good, the bad, and the ugly truth on "making it" as a pro kiter… plus he shares some of his all times highs and lows in STUPID sized waves…


• Competition round ups, travel stories and kiting gossip.
• Product info on lots of the latest gear.
• Detailed reviews on Slingshot surfboards, Best Profanity & Howl Combo, Ozone C4 kite, IKON Peak 2 Kite.
• WA Kiting superstar in the making BILLY HAMPTON's story so far…
• Annabel Van Westerop…. We love a hot Kiter that rips.
• How the F*CK do you ride a foil? BRANDON SCHEID explains…
• ELLIOT DRURY stomping around Aus…
• DAN JONES from WA pauses putting out fires and chats to RYLAND BLAKENEY all things surf style..
Now if you have read this far and still don't have the mag… get on your bike and go get it! Available via subscription at www.freedomkitemag.com or all GOOD newsagents. For a list of all news agents (over 1000 shops Aus wide!) please go to:
https://www.freedomkitemag.com/newsagent-listings/
*  steak knives might not turn up 🙂