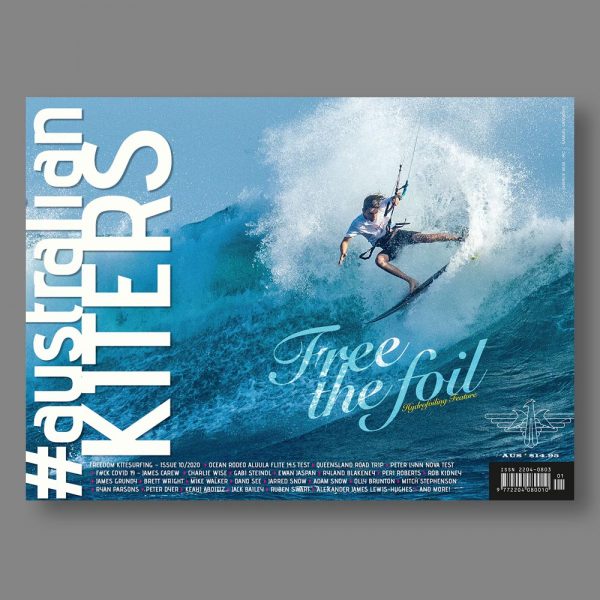 The all Aussie Kitesurf Annual for 2020 – A mega collection of stories and pics from 2018-2020!
Product Description
The wind is finally here and so is the second Annual of AUSTRALIAN KITERS!
This issue is a cracker 112 pages super high quality coffee-table style book!
This issue is a collection of kitesurfing events, local destinations and sessions Australia wide, plus some great international camps for you to consider some time again.
AUSTRALIAN KITERS features all Aussie riders and a ton of Aussie locations. We live in one of the best kitesurfing locations in the world! Go STRAYA!
Here are some highlight in this issue:
West Oz Wave kiter Ryland Blakeney talks about Fin selection to maximise your chunk throwing.


We review one of the latest kites on the market the Ocean Rodeo Flite 14.5 Aluula – You have to try this kite!

Margaret River's Gabi Steindl writes a splendid article on how to be a traveling kitesurfing journalist

Ewan Jaspan Australia's NUMBER 1 Freestyler talks about Kite Looping, Going BIG, and easy to do air-grab techniques.
Free the Foil – The first of our upcoming dedicated FOILING section. We interview some of the current key players James Grundy, NZ's Olly Brunton, Mitch Stephenson, Jarrod Snow, Ryan Parsons.

We review the PETER LYNN NOVA 10m – The prefect kite for Hydrofoil kiting?

Highlights from the year of 2020 Aussie Freestyle
Lennox Heads Kiteboarder Movie Maker Alex James Lewis Hughes on his latest park style movie – Death of Park

Qld Noosa's Keahi makes the sickest kitesurf barrel focused movie of all time – Tunnel Vision.
Queensland Road Trip Destinations: Port Douglas, Archer Point, Alva Beach, Kurrimine Beach – Check them out!


Incredible travel destinations  Philippines / Mauritius / Rodrigues
Full Wave riding tutorial for the waves of Mauritius by Qld Coach Mike Walker
Local lads get FLOGGED at One Eye – But love every minute of it 😀 – With Mike Rikard-Bell. Chad Johnston, Colin Macdonald, Matt Barnett, Mark Ludbrook, Eugene Molnar.

F#CK Covid 19 – Melbourne's James Carew gets sick on the otherside of the world… He's still killing it anyhow!


West Aus rider Rob Kidney talks about the latest kitesurf gear from CORE KITEBOARDING

Beginners Corner – How to go about learning to kite with Qld Coach Mike Walker.


We catch up with VIC photographer ADAM SNOW on his experiences since the 2018 GKA.
And a whole lot more!
Buy via the website and save $5 🙂 – $15 in kiteshops and Newsagents available in next few weeks.