From Issue 1 – you can buy it here!
Written by OLLIE J
Photos taken by VINCENT BERGERON
HAILING FROM HOOD RIVER OREGON,
HERE IS ONE VERY IMPORTANT COG IN THE LIQUID FORCE MACHINE…
PRO RIDER, R&D & TECH DEVELOPMENT, AND MORE; READ AND YE SHALL SEE >

LOOKING THROUGH YOUR PHOTOS, YOU HAVE TRAVELLED TO SOME AMAZING PLACES, WHICH ONES STAND OUT?
I was pretty awestruck at Cape Town. Just the raw, super old-world natural beauty – everything was rugged and the water was crystal blue. Massive cliffs and mountains. I was just blown away by how beautiful that landscape was.
Union Island is also pretty incredible. It's just a volcanic island in the middle of the ocean, razor-sharp shallow reef, but absolutely insane watercolour. Blue-water paradise to sum it up.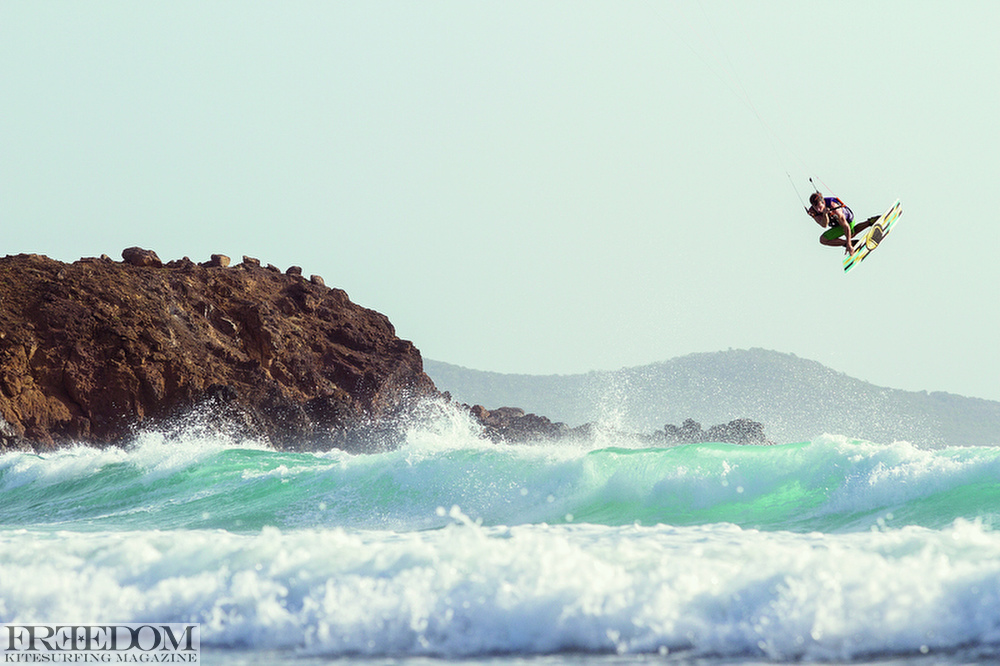 FINDING GREAT KICKERS ON UNION CAN BE A BIT OF A CHALLENGE, THE TEASE IS THAT THE BEST ONES ARE RIGHT IN FRONT OF THE LAUNCH AND TOTALLY OFF LIMITS.
THE KICKERS BREAK ON THE REEF SURROUNDING THE ONLY
AIRSTRIP ON THE ISLAND, MAKING THE WHOLE AREA OFF LIMITS.
WE WOKE UP SUPER EARLY ONE MORNING TO BEAT THE AIRPORT WORKERS TO THEIR SHIFTS, ALLOWING US A SMALL WINDOW TO POACH THE AREA.
SOMETIMES BREAKING RULES IS THE ONLY WAY.
IS KITESURFING A FULL-TIME GIG FOR YOU?
Yes, between all the travel, marketing, board development, helping with kite R&D, and the foil project we've been working on, it's been a very busy summer. We only have a small team and there's a lot to accomplish, but that means I get my hands into a lot of different things which keeps it fresh and really fun. Plus, I get to ride a lot which, of course, is the best thing ever.

THAT'S A PRETTY NICE JOB YOU HAVE WHEN YOU STEP BACK AND LOOK AT!
Yeah, it's cool. It's not something you'd want to do forever, but while you can it's really fun. It allows you to travel and do a lot of neat, unique things and I'm stoked I get to help develop products and see the finished design.
HOW DID YOU GET A JOB LIKE THAT?
Well it was a long road! I flew kites for years then managed to get a job at Real Kiteboarding where I started riding a lot and got heavily influenced by those guys who rip. I managed to weasel my way into the Triple S one year by randomly being in Hatteras and knowing some of the crew which was a shoe-in. I did pretty well that year and the following years and it kind of took off from there.
I MUST SAY YOUR PHOTOS ARE PRETTY RAD!
VINCENT TAKES A MEAN PHOTO HEY?
Yeah totally. His composition is really nice and he has a knack of getting perfect focus and super super sharp shots. When we work together he's very vocal and tells you where to be and gets stoked when you get stoked… Which makes you more stoked and ride even harder! He walks around setting up various different angles and you don't even realise he's getting much. You might think, 'ahhh, maybe we got a shot or two,' but when you review a day's shooting, it's ridiculous – he just seems to nail it! That's why I like to work with him – he is super stellar!
AFTER FINISHING ONE OF THE MOST AMAZING DOWNWINDERS I'VE EVER DONE, ALEX FOX AND I WERE ASTOUNDED TO FIND AN OLD CATAMARAN HULL POSITIONED PERFECTLY ACROSS THE WIND.
WE SPENT THE NEXT HOUR OR SO GETTING LINES, SLIDES, STALLS, AND GRABS OFF OF THE QUARTER-PIPE LIKE SIDE OF THE WRECKAGE.