From Issue 4 – you can buy it here!
Written by: Ollie J
I noticed you proudly plastered on Facebook your new quiver of Firewire boards… six boards! Haha, yes I'm jealous. Why do you need six boards?
Haha yes, I was so stoked when they arrived last week I just couldn't resist putting a pic up on Facebook to rub it into some of my mates, and just in time for the start of summer!
Well, why not six boards I say, haha. Nah, in all seriousness they were a mixture of kite and surfboards to get me through for a while and try out a few new shapes too. I've been riding for Firewire for about five years now and love playing around with all their different boards and shapes. They have a great selection for all different styles for surf and kite so I like to mix it up and keep my sessions interesting. I generally ride a smaller board than I paddle purely because we get fairly small waves at my local and howling wind so the smaller boards work well in these conditions.
Can you explain the differences in your board quiver and how they appeal to you?
I generally ride Firewire's standard FST surfboard construction for kiting. They are still strong and I like how they are light. The kite version construction I tend to use in the stronger wind as I find the extra weight helps handle the chop better, but when it's sub 20-knots I like the lighter construction of the FST and they are still heaps stronger than any polyester surfboard.
As for shapes, I generally like to ride boards around 5'3-5'5 in the Tomo (Vader/Vanguard etc) and shortboards like the Pyzalian in the 5'8-5'10 range – the 5'9 Pyzalian being my kite board of choice at the moment.
I like boards with a flatter rocker as they ride faster, handle speed and truck up wind. As for bottom curves, I like big concave through the middle of the board and through the fins. This allows for pushing of air under the board and creating lift and extra speed, but you want a little tail rocker to let you turn easily if too flat through the fins it won't turn as easily as a board with a tail rocker.
For width, I tend to keep my boards in the 19-inch area. Sometimes narrower in the Tomo shapes but for standard shortboard the 19 & 1/4 inch work well for me. That width gives a bit of extra stability when landing strapless airs too.
For paddling I tend to ride around 30-34 litres depending on quality of the surf.
Which ones will you use for kiting?
I will mainly use the Pyzalian and the Vader through summer for kiting. I've also got a Vanguard to have a play as I'm interested to ride them back-to-back to see what I prefer in this style. For surfing I found the Vanguard heaps faster than the Vader, but the Vader turned better, so will be interesting to see what is a better kiteboard for me. The Evo I got for surfing and the litres in this one I got will be too much for what I like to kite on, but could be a good light wind option board. The other was a small mini mal for summer to play on as well as my trusty Spitfire that I generally surf on as my everyday surfboard.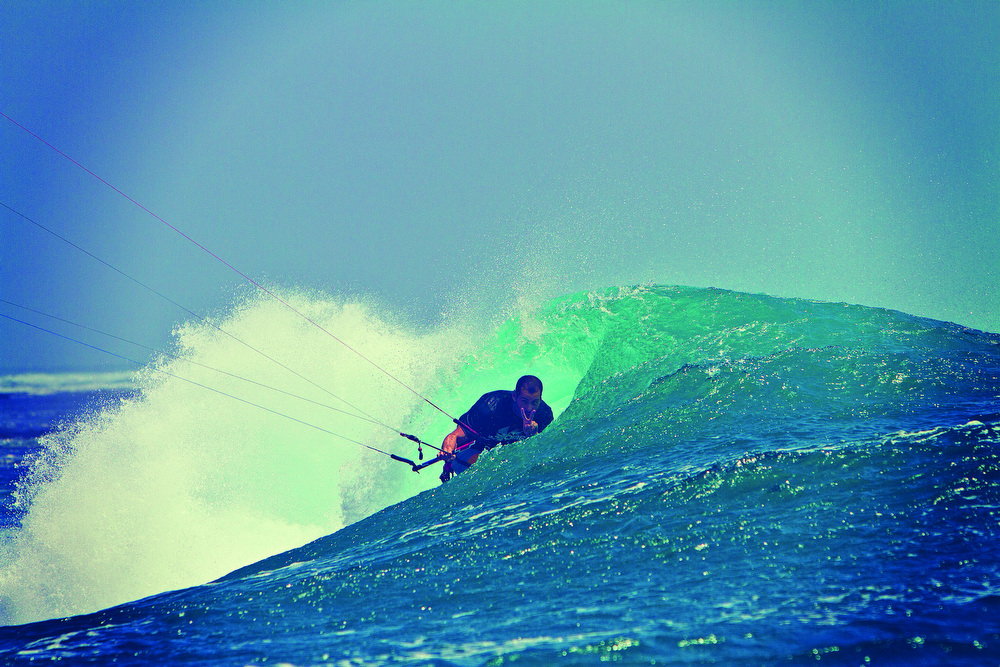 The newish Vanguard shape … are you a virgin?
Nah, I've been riding them a while and I really like them. When I travel I can only take minimal boards and I take a few surfboards and maybe one kiteboard. I just don't have room to take everything, but I've really been enjoying the Vader. I took the Vader in a 5'6 to Indo this year on a boys' trip to G-Land. The first day was a solid 6-8 foot and I took her out! I was under gunned and needed a bigger board to get into them as everyone was out on 6'8s and 7s but when you got one the speed was insane – like nothing I've ridden before – and for turns it locks and wraps so hard. I think the parallel rails and quad set up really get it on its edge and holds right through the turns.
What type of fin setup do you prefer and why?
In the Vaders I prefer the quad set up but in short boards with a narrower tail I prefer Thruster. But it also depends on the waves. In barrels a big quad set up seems to handle the speed and suck better but for turns and slop I generally ride Thruster as they just are good all rounders.
In a lot of your shots your boards are crazy colours. Do you paint them yourself, and why?
Yeah, I paint them myself. I'm a painter by trade. Well, because I like to keep them looking like one-offs and not like a generic board that a 1000 other guys in the world have. Plus, epoxy boards slightly yellow over time so it keeps them looking newer for longer. Also dirty wax looks worse on a white board than a coloured board I think.
Run us though some painting tips…
I like to use only a couple of colours, too many colours look over the top in my opinion. Black is always a winner, even if it's just an Artline pen as an outline around colours. Also, dishwashing detergent is a good one. Spray one colour down, squirt lines or design in dishwashing liquid and then a light spray over that, let it dry in the sun for a bit and then squirt off when dry and it gives you a pretty cool design. A clear coat is helpful for a bit of extra life on your spray but if you're using a good quality paint it's not a necessity. Keep in mind oil-based clears will yellow off. Water-based clear coats will keep whites looking whiter longer. Also, if you use oil-based paints don't use a clear water over the top – water can't go over oil. But if you use water-based colour oil clear can go over anything. I generally use water-based colour and water-based flat clear. I like the flat as once it's dry you can wet and dry the board and it gives it a finish that looks like it's under the glass.
Are you going to Lancelin again this year?
Yep, definitely going to the Lano comp this year. It's good to see some wave events on the WA calendar. We have the state titles in November, NKL in early January and then LOC in mid-January so a good little run of events for summer this year. I'm looking forward to them all.
Leg rope tips for kiters?
Oh, this old debate. At home at my local I never use one ever. However, as soon as I travel to a reef break or Indo I always wear one. I guess it's personal preference, but if you don't have to ride with one then don't but if there are cliffs or reef that may damage your board if washed in then it can be a good option. Just make sure it's a good leggy that doesn't have too much spring back. The newer leggies I find don't flick back at you like the older style ones used to.
When travelling with your boards how do you keep them from being destroyed?
That's always a hard one – a good travel bag, and kites between boards is helpful too. I generally wrap my harness at the end around the nose or tail for a bit of extra cushioning, but the baggage handlers can be pretty rough so better to be overly safe I say.
How many boards do you take on an Indo kite/surf trip?
I try to get away with three, but I have too many good boards to choose from so usually it's four. It's a bit of a hassle travelling with four as it means an extra board bag. Only three fit in my big Dakine traveller bag with all my kites.
What has the surf insight brought to your kiting?
I guess surfing has definitely helped my kiting, as kiting helped my surfing in a way. Surfing has taught me to read waves differently to someone that has never surfed. I try to make tight turns off the bottom and top rather than long drawn out turns and into the flats. Different backgrounds have different approaches, no way is right or wrong. I just try to make it feel as if I'm surfing – even if it's knee high, haha.
Waxing tips?
The first thing is to use a base coat wax first. This is most important. Then build up from there with the right wax for your water temp. I generally get the wax and put lines on a 45 degree from tail pad to past your front foot and then 45 degrees back the other way with lines, if that makes sense. It leaves a criss-cross pattern on the angle. Now that you have wax lines on your board just gently wax all your area in a circular motion building up little lumps ever so carefully. A good wax job on a new board will take a good 8-10 minutes to do it slowly and properly and to get it looking neat. For the back I always use a tail pad and will have this as far back on the tail as I can get it.
Any other tips (apart from being good to your mother)?
As for tips I'd say try a few different shapes that you're not used to. The Modern Planing Hull (MPH) that Tomo has based his shapes on really are unique and work well. They do look strange, but work and once you get your head around not having the nose and ride one you will instantly change your thoughts.
How has it been to come on board with a heavily surf-focused board company like Firewire?
It's been great! They have a massive selection of boards to choose from. And working alongside some of the greatest shapers and products means they have their hands on some of the most innovative boards and products on the market today.
Which boards would you use in what conditions?
Lighter boards in lighter winds, slightly heavier boards in strong winds or big surf.
What board has you most excited for this season, and why?
Probably the Vader. They are super fun for surfing so I'm frothing for some water time on it with a kite. You can go heaps smaller than you think with them. I'm kiting a 5'5 at the moment but might go down to 5'3 for that full high wind board for big punts.
Does the 'kid on Christmas morning' feeling of getting new gear ever go away?
Nah, no way. There's nothing better than getting a new board. I will look at it for hours when I first get it, hold it under my arm, make sure it feels good and make sure the tail pad is pushed right back. Give it a good wax job, a quick bit of colour and ready to go!