WORDS BRANDON SCHEID ALL PICS VINCENT BERGERON
Flying above the water effortlessly, unbound by upwind constraints is a surreal feeling, one that only hydrofoiling can provide. It's unlike anything else in kiteboarding, and it is great to see so many people embracing this niche side of our already niche sport. Not only is it extremely fun, it also helps us as kiteboarders make the most of marginal conditions. I've never seen so many people excited for 10 knots. Here in the Gorge, there is a crew that drives around trying to find light wind, no easy task on the howling Columbia. What everyone initially dismissed as a fad, seems to be taking hold finally. We, at LFK, are happy we saw the light at the end of the tunnel early and embraced hydrofoiling early on. For us, and many, it all started with the Foil Fish. It was our explicit goal to bring foiling to the masses by making the most straightforward and affordable foil setup on the market. Following the success of the Foil Fish, LFK has been hard at work developing a deep and all-encompassing line of hydrofoil products. We are excited to share the fruits of our hard labour with everyone.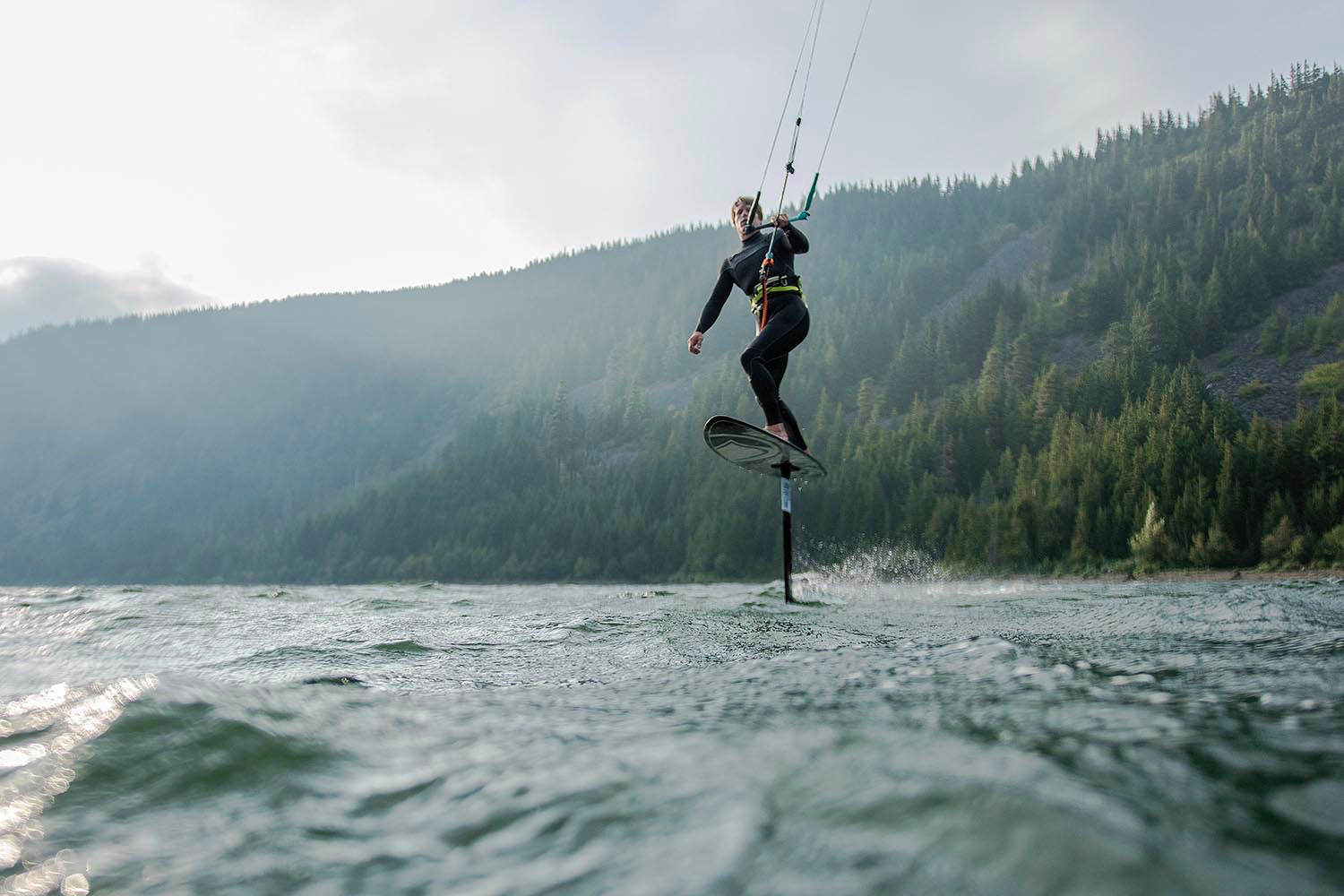 Starting at the top, we are offering a few new additions to the board part of the hydrofoil kit. First and most exciting is the Galaxy Board. This is LFK's first 100% hydrofoil specific board, and the features reflect its hydro-specific nature. The Galaxy starts with our lightweight honeycomb carbon construction making it the lightest board in our foil line. The bottom shape features a double concave hull, making planning easier as well as chined or bevelled rails which aid in chop deflection when heeled over cranking upwind. The concave top deck combined with the three plus one strap configuration allows for precision control of the foil with minimal effort. The Galaxy also features a track mountain system to enable a rider to dial in the feel of their ride. Coming in at 4' 8" with plenty of nose rocker, the Galaxy is a forgiving ride for those people still learning to foil.
Next in the line is the Happy Foil board. The Happy Foil was designed as a multi use board for those looking for the most bang for their buck. The board can be ridden with a foil, or finned up as a small surf slashing machine. The Happy features a track mounting system for rider adjustability as well as a three plus one insert pattern. This allows for a wide variety of setups, perfect for a wide range of riders. The Happy Foil board is available in a 4'10" and a 4'5" for both types of foil riders.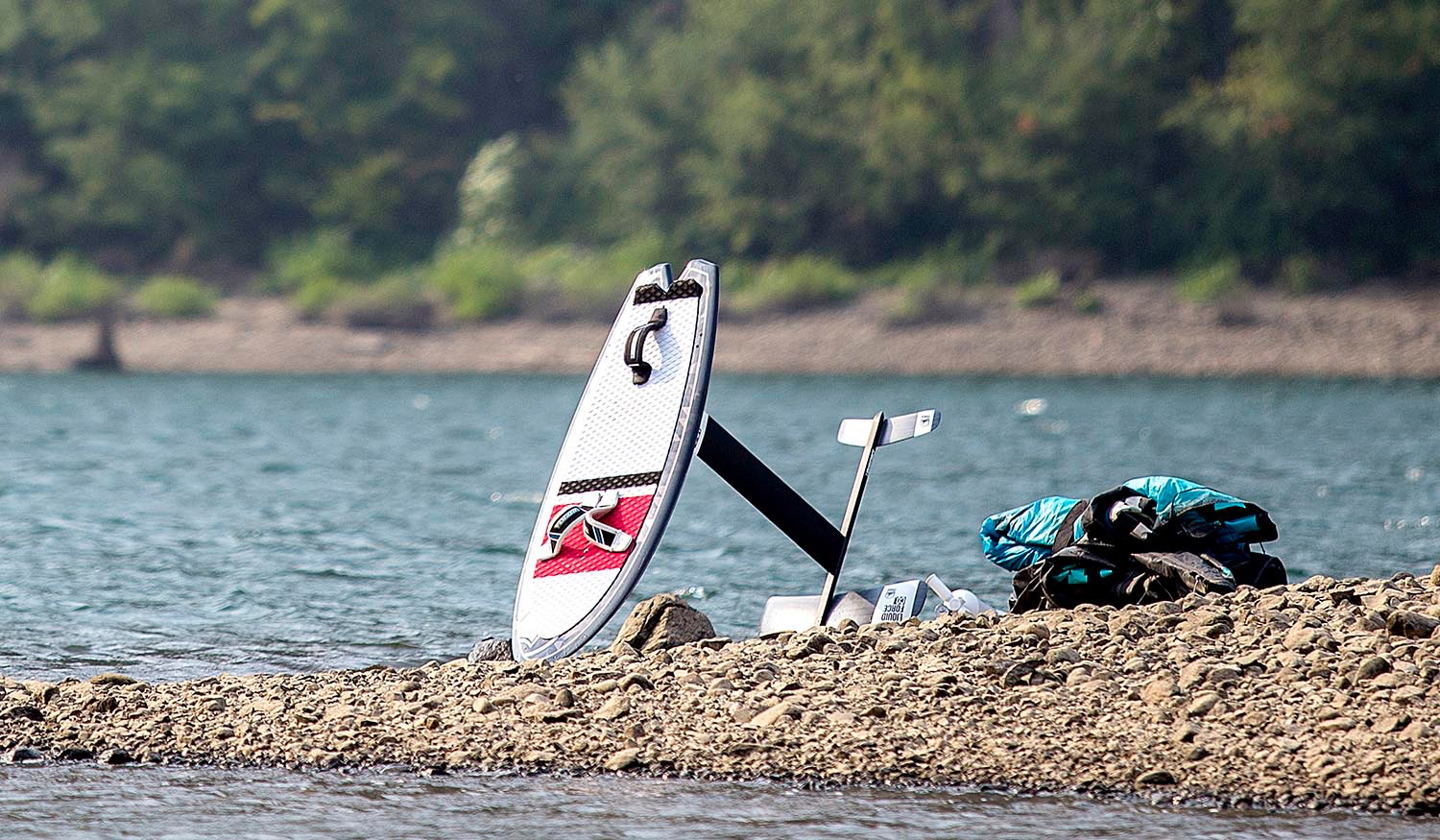 Finally, we are offering an update on our original Foil Fish board, now called the Rocket Foil. This is a compression moulded board made to make learning more manageable, and reduce the cost of entry for foiling. It also has a three plus one insert pack, as well as a track mounting system. With ample nose rocker and larger sizes (5'0" and 4'8") this is the perfect board for a beginner just learning to ride the magic carpet. Not only that, if you show up somewhere shallow, you can take the foil off and rip the Rocket around on the water sans foil. This is indeed the best value per dollar and continues to be the go-to for first-time foilers.
In addition to new offerings on the board front, we also have two new wings to complement a wide variety of riders. New for this cycle is the Thruster and Impulse wings, joining the Happy and Rocket wings. All of our foil parts can be purchased a-la-carte, however, most will want to get them paired with fuselage and mast. All of our kits utilise our proven alloy mast configuration, for the lightest and most durable setup on the market. Not only is aluminum strong, it is extremely durable giving our foil kits longevity.
BRANDONS SCHEID'S FAVOURITE
The Thruster Foil Kit is one we are incredibly excited about. Designed in collaboration with local PNW hydrofoil guru, Matt Wheeler, the Thruster is genuinely a kiteboarder's hydrofoil. The wings were designed to carve and rip like no other. Additionally, we wanted a wing that could travel at high speeds when needed, and still provide lift at slow speeds. We were blown away by the feel of this wing the moment we got in on the water. It is incredibly forgiving and has a wide sweet spot when on foil. Additionally, with the stall point of the wind brought towards the centre, this wing can break the surface during carves and not get bogged down with cavitation, causing a loss of lift. Essentially, this wing can get you where you want very quickly, then turn and rip carves. Finally once your tired the wing can be ridden slowly getting you back to the launch easily. The Thruster kit comes complete with our all-new HD fuselage, making the ride even more buttery than before.
GARY SISKAR'S TO GO SETUP
Up next is the Impulse Kit. Developed in collaboration with Cloud IX, a boutique surf foil company, the Impulse is truly like riding a cloud. Designed to provide rapid lift and long glide, the wing can make the most of marginal conditions. It provides unparalleled lift at low speeds making it ideal for light wind, or someone looking for a very forgiving ride. This extended lift also makes tacking and gybing a breeze. We are offering this wing kit with two different mast lengths for a wider variety of uses. The long mast is perfect for kiteboarding, while the short mast is ideal for SUP, surf, or wake surf setups. The impulse kit also comes with our carbon fuselage making it extremely light and nimble on the water.
Finally, we are continuing to offer our high-speed Happy Foil and beginner friendly Rocket Foil wings. Additionally, both the Impulse and Thruster are available in a lighter full carbon construction. The best part about the LFK hydrofoil program is that all of our wings, boards, and fuselages are interchangeable. This allows for the most variety of setups and allows our customers to dial in their feel and have full control over their complete setup. We are confident that we have something to offer for every type of rider, from first-timers all the way up to free ride masters. So if you're looking to get into the magical world of foiling, look no further than LFK for your hydrofoil needs!