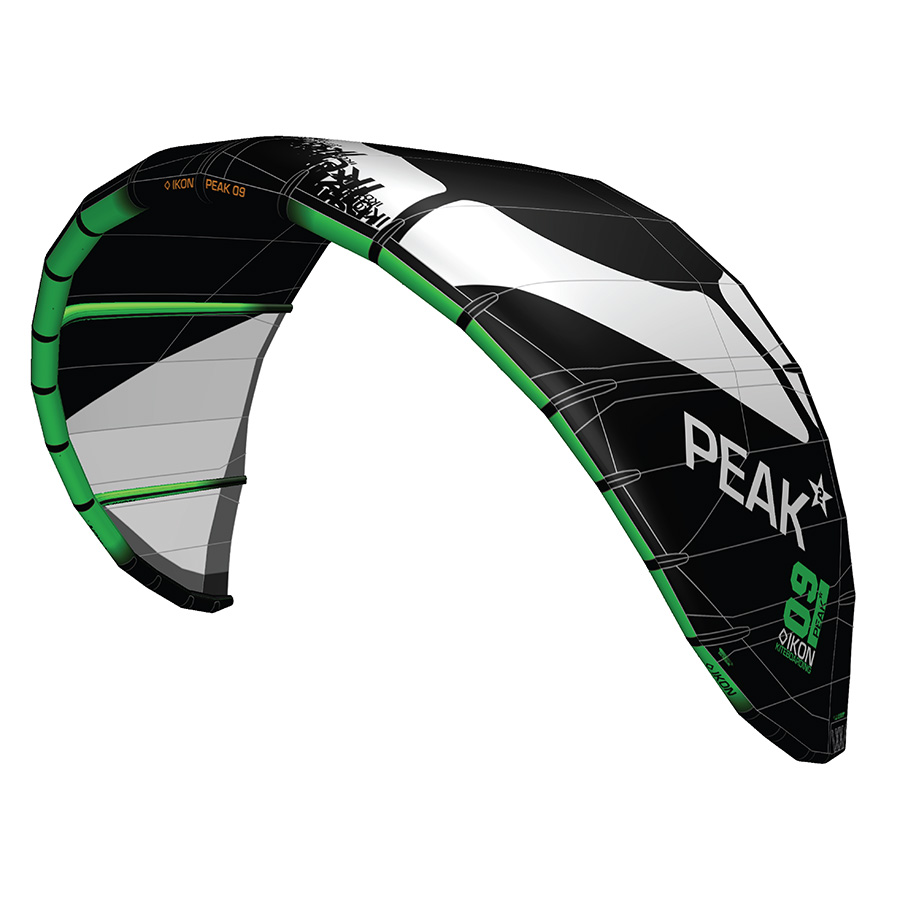 Key performance points:
Five struts design for a solid and versatile delta shape
Impressive low end, fast steering, easy relaunch, Fast inflation transfer
Massive hangtime, wide windrange and bombproof construction
with 3D Diagonal distribution, Rigid Frame Technology & LE shield.
Description:
The PEAK 2 is the perfect kite for freeride.
Freeride, wave, freestyle, hangtime, or racing, the PEAK 2 is the all-rounder kite of our range. We spent 2 years designing this new toy to give you the ultimate experience.
More depower on the smaller size and better turning for the bigger sizes have been our constant goal, without losing the unique feeling of the first generation. The PEAK 2 is fitted with the new SIC for the single inflation system, pumping your kite is faster and easier than ever.
Using high quality material from TEIJIN, RONSTAN, and COUSIN, and combined with an engineered design, the reinforcements are positioned to deliver high quality products.
If you don't want to be put in a box, the PEAK 2 is the kite for you.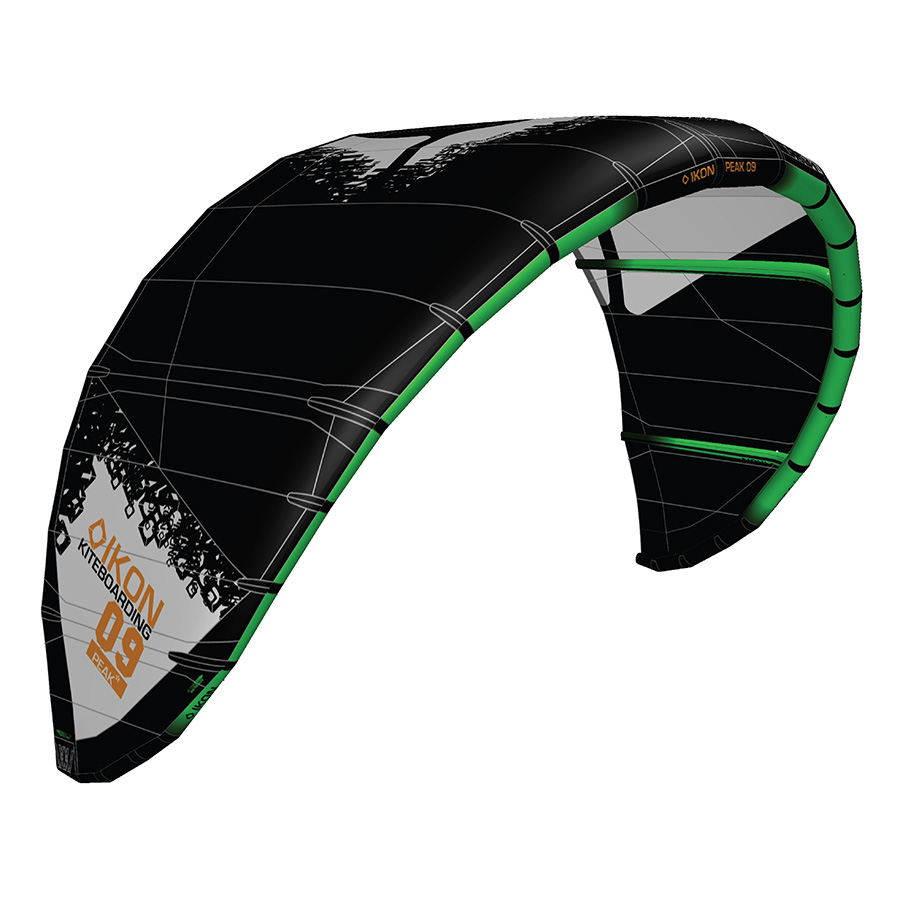 TEST BY BONNY SULISTYO/KSS – KITE-SURF-SUP:
Keen on cracking the 9m PEAK 2 by IKON KITEBOARDING, I began to set my fins on my Firewire board and started preparing for the end of the day at my shop, KSS, Scarborough. With the doctor knocking on my door delivering 23 knots of wind I couldn't contain myself any longer. I called Dan Jones and Andre Cater, it was time for our 4:15 Board meeting at the usual City Beach groyne.
Before long the Peak 2 easily slipped out of its generous sized bag and within a minute and a half, it was pumped harder than a mud-stuck Hummer, thanks to the FIT (Fast Inflation Transfer) system.
I had a bit of time while the boys were setting up to admire the quality of construction. Using top material T9600 from Teijin, the kite felt crispier than Heston's triple cooked chips.
The reinforcement of Dacron leading edge and multi-layered Teijin canopy simply featuring Kawasaki green, jet black and KTM orange made the kite look tricked, yet the strength of the materials could double as a shroud for a bomb attack.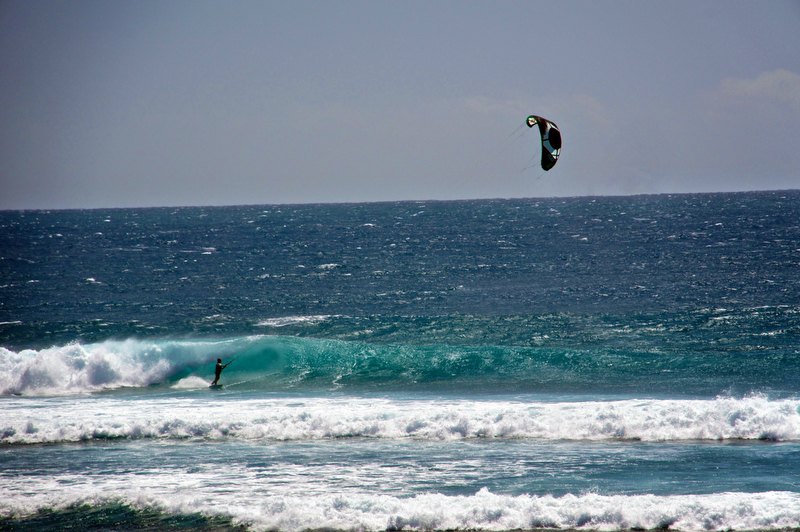 By this time old mate Andre overtook me and was set up down the beach with his lines. So it was time to leave the kite and move on to my bar. The CONVERT BAR 2 has been completely redesigned; in fact it's a completely new bar to the generation 1.
As it seemed, the first bar was doing the job but was very 2008. This 2nd generation bar isn't as pretty as some bars on the market that focus on colours; it's all business here. To be honest I'm going to use this for my REO. I love this bar as it provides practicality, forgiveness, safety and efficiency for all calibre of riders. The industry standard push away quick release is nicely packaged. To re-activate the system is very simple and doesn't seem to be a chore. The gentle grip and soft moulded ends feels great to hold. And the soft ends are friendly for my fragile surfboard, but most importantly my head.
The plastic coated depower and steering line is underrated, but is missed when it's not there, so I'm glad it features with this bar. Clamcleat for the power trimmer has proven time and time again to be awesome, so why change? What is smart about the IKON is that this bar is suited for all IKON kites. That means you can travel with as many kites as you want and just use the one bar. Ben has engineered the kite wing tips differently for each size kite to make this possible. The time spent on this for our convenience is well appreciated, "onya mate!" So a 46cm bar is what's on offer, which is the right size for the majority of us.
When it came to launching there was no shortage of volunteers, being the new kite on the market, everyone wants to cop a feel. In the air the kite felt really smooth with a nice gradient of bar pressure through the depower line. I have noticed the bar pressure is lighter than the 1st generation, it's definitely a better balanced bar and a welcoming change.
As soon as I was on my board, it felt like a pair of old trusty work boots: comfortable, functional, capable and safe.
I ride mainly hooked in but at times I love the freedom of unhooking, so my kite must be versatile.
I rode my first few waves hooked in and from the first swoop into the wave it manages to drive a nice even pull as expected, along with a medium drift capability. This great start continued on to be better and better going, as I got further and further down the beach. It's a very predictable kite and very fast in response. It captures energy wherever it is in the air. It didn't luff even at times when I had slack lines for a few moments. Boosting and kite looping was next on my agenda as I had my surfboard strapped. The kite boost is massive, as expected from a delta. The descending of the boost was a bit quick for my liking, but the kite loops were precise, yet forgiving but direct in feel. Down looping was great, I was able to slow down a jump to it's apex and down looped the kite, throwing an off-axis front-roll, with the intention of landing riding the wave in front. This trick I like to do in slow motion, the bigger the jump the slower the roll. Achieving this with a 9m, rather than my usual 10m was not only successful but also easy and fluent.
This kite can do everything at 90% capabilities, so it's true to the freeride genre.
I'll be keeping this one for my quiver of great kites. The IKON PEAK 2 second generation will stand as my travel kite for all kinds of riding and conditions around the world, as it provides me with the confidence that I have the right tool for the job.
The Reviewer: Bonny Sulistyo / KSS – Kite-Surf-Sup WA
We ride most afternoons, as I shut the shop at 4pm so I can manage my sanity and at the same time catch up with my clients and team riders. I stand by my products and lead by example, as well as provide a hospitable kite shop. After all I have had 20yrs knowing the importance of customer service and satisfaction.