PUBLISHED: MARCH 2017 – Words Jason Wolcott
Issue 07 – Get it here: https://www.freedomkitemag.com/product/issues/issue-07/
The term 'power couple' gets thrown around a lot these days, especially in the world of celebrities. Who is wearing what, who said what, who screwed who backstage at the Grammies, who is getting custody of the six kids?


Here at Freedom, we couldn't give a fuck about that stuff. But when the world's best male kitesurfer is dating the best female kitesurfer, we have to get into tabloid rag mode and figure out what is really going on.
Don't worry, there will be no cute combos of their names like Bennifer, Brangelina or any such shit, just the facts. Umm…maybe…Moonahi? Ok ok…just had to try! I spent 18 days with these two lovely young rippers and can tell you that they complement each other perfectly.  They both love to surf at first light, eat big lunches, and head out on the water together kitesurfing. I have been married twice. Could having someone as stoked on the ocean as you are be the answer to eternal relationship bliss? During our time together,  Keahi suffered a few nagging injuries and Moona got some serious food poisoning. But they helped each other get through it without taking away from each other's time in the water. I think they may be on to something.  My wife and three-year-old daughter, Bulan, came along for half the trip and I can tell you one thing – my kid wants to be like Moona when she grows up. As a dad, I can honestly say, I would be very proud if she turned out like Moona.
Keahi Interview
So you went under the knife again? What for this time?
Yep, that sucked. Back in February, I ended up dislocating my shoulder pretty bad surfing. I fell bottom turning on a pretty solid wave and slightly tore my labrum when my shoulder popped out. After speaking to a lot of people and researching it, surgery sounded like the best option for the future so I had to bite the bullet and get it done. Although it was a relatively simple surgery, the recovery took time and I'm stoked to finally be back on the water and feeling good again.
Are you fully recovered?
I wouldn't say I'm completely there yet, but the hard part is over. I put in a lot of work training and strengthening it back up and I'm happy to say I'm back to feeling pretty confident on the water again. I don't think I'll ever get quite the same amount of movement back but the strength is there and I'm continuing to gain more and more movement each day. I'd rather have it solid and a little tighter than loose and more prone to popping out again. It wasn't something I wanted to have to worry about for the rest of my life.
You won the event in Morocco, how does it feel to be standing on the top step again?
It feels amazing! It's always pretty difficult when you get injured as it's hard not to worry about whether you'll ever recover properly and still be able to come back to that level. To come back with a third in Mauritius and then win the event in Morocco was a dream come true. It's just good to know all that work paid off and get some of those thoughts out of your head. I can't wait to see what the new year brings!
How long have you been dating former female wave kiting world champ Moona Whyte?
I'd say it' s been about five years now. I ended up meeting her back at one of the first Cabrinha shoots I did in Hawaii and we've been together ever since. Sometimes it gets hard with the travelling, but since she also kites professionally, it's nice to be able to travel a lot together and share the same hobbies.
What are the positives and negatives about having a girlfriend who kites as much as you do?
I'd say it's mostly positives. Luckily for me, she kites and surfs really well so she's usually pretty keen to do the same thing as me and kite the same places most days, which helps. The best thing about it is how understanding she is when the waves are good. You have to drop everything and make the most of it. Most days she'll be out there joining me too.
Only a surfer really understands and she knows just how much it hurts to miss a perfect session. It's nice to be able to avoid this argument, which I've seen in relationships too many times before. Travelling and being able to share gear is always a bonus too.
I noticed you guys always fly different sized kites on the same day. Must be nice to have the same kite sponsor to save on baggage fees.
Haha for sure. It makes going on trips and to competitions a lot easier being able to share kites. It just means we're able to bring a few more sizes and have everything for the conditions without getting destroyed on bag fees. I think the last trip we pretty much had every size kite from 5 to 13, which was perfect. At least it's good until I put one of her kites through the washing machine on a couple waves. That always gets interesting!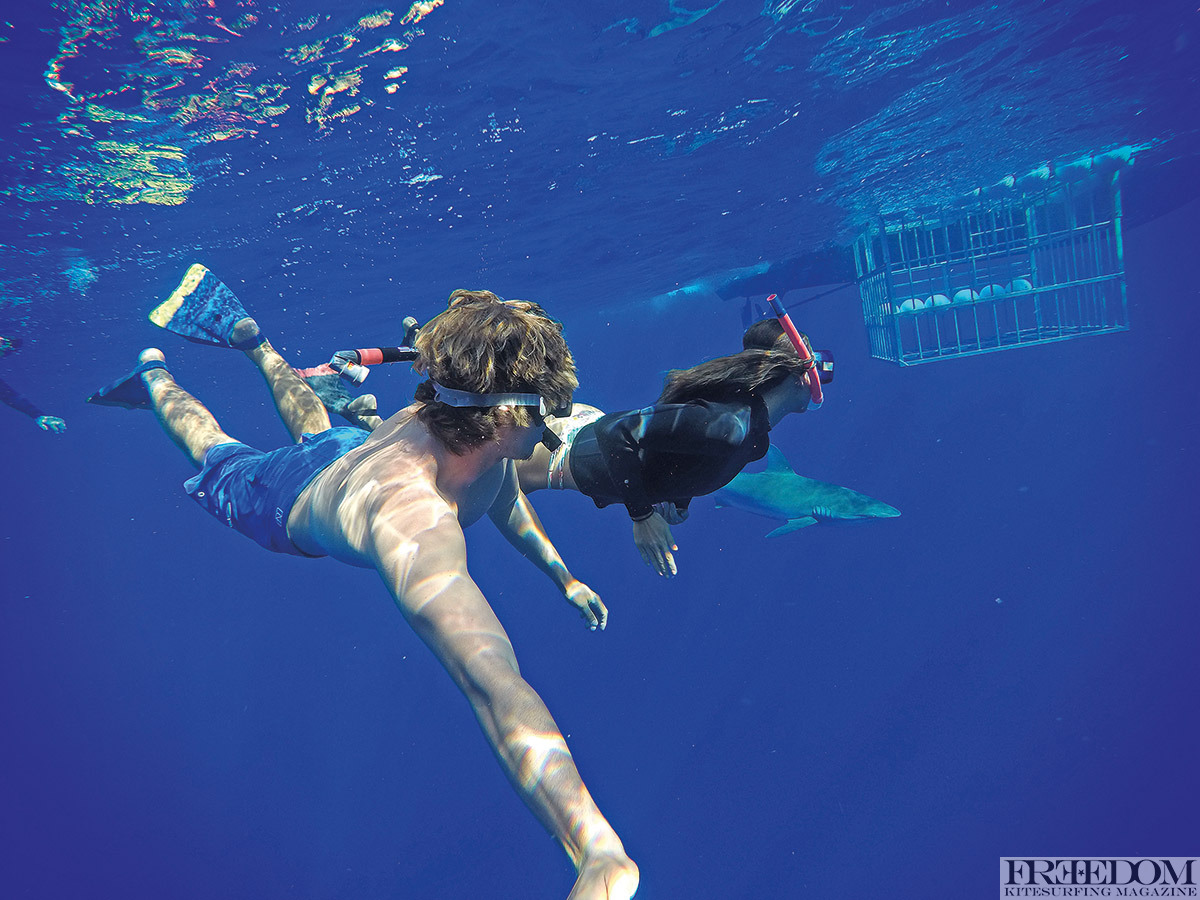 Tell me about the way Moona rides
She definitely has a very surf-orientated style, which I think helps set her apart from some of the other girls. She basically grew up on the beach on the North Shore and her dad is an ex pro windsurfer. She had the perfect upbringing, which helped shape her into an amazing rider. She surfs really well so it translates into her kiting perfectly. She's one of the only people I know that actually learned to kite on a surfboard and basically never even touched a twin tip until a couple years ago. Apparently I'm the weird one for learning on a twin tip too. Go figure. I think in turn, she's developed a really smooth style, which is always good to see in kiting.
Do you ever worry about her when you guys are in the water?
There are definitely moments where I worry. Sometimes when it's bigger, but she's gotten pretty good at handling herself in some solid waves. I'll usually just keep an eye out if something goes wrong but she's pretty good at getting out of most situations by herself. It's nice not to have to think about it too much.

Does spending so much time on the water together bring you closer together or make things difficult in a relationship?
For the most part, I'd say it brings us closer together. I think until there are kids involved then it shouldn't really a problem. If we ever have to start dividing water time, things might get a little difficult.
We got super skunked last year in Indo. Did having Moona with you this time make it easier to deal with the lack of good conditions?
For sure. It always sucks getting skunked but with her there, we were still able to find plenty of things to do. It was kinda nice to explore the area a little more and pumping surf definitely helped too. Definitely not the worst skunking I've had when you look at what we still were able to get out of the trip.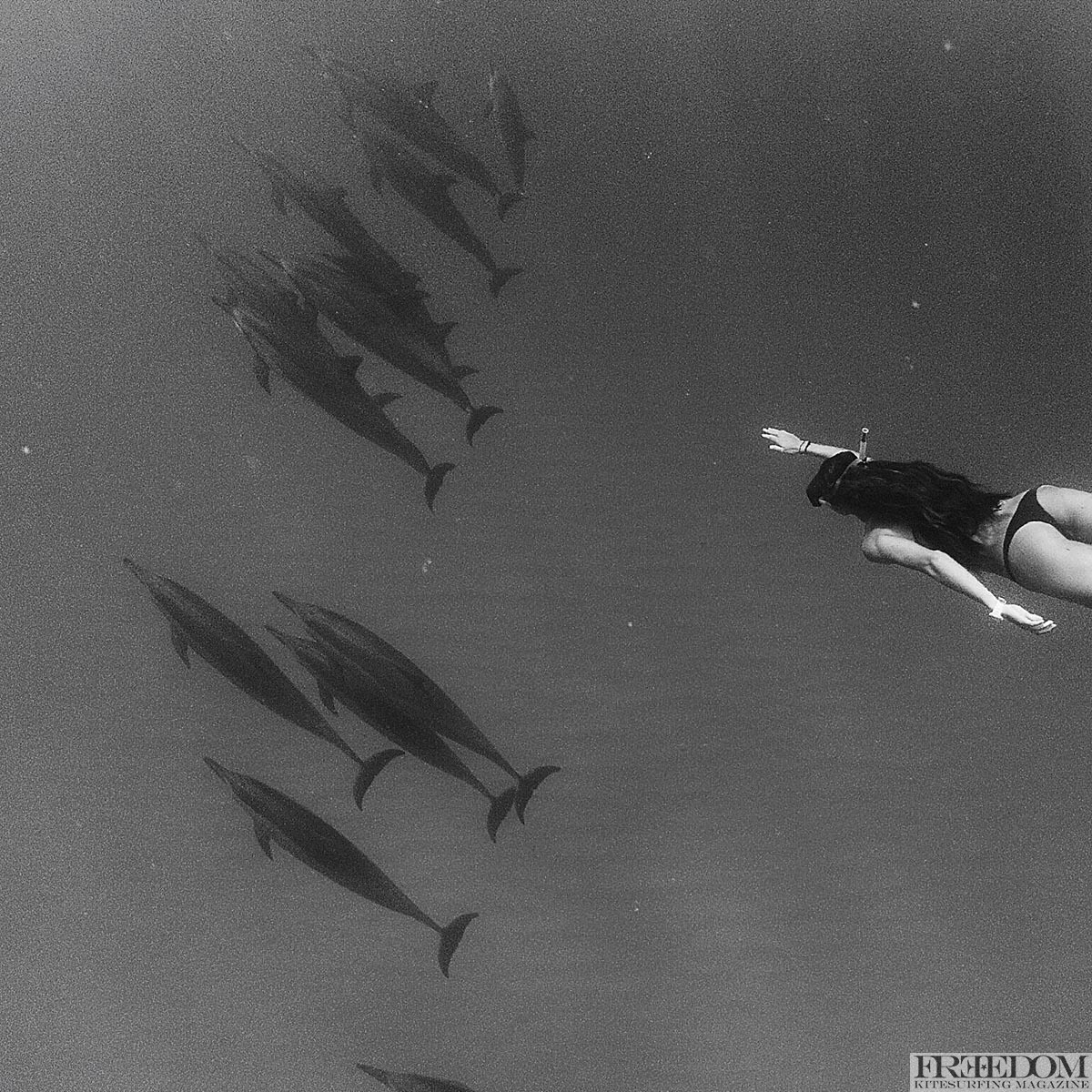 Moona Interview
Age: 22
Sponsors: Cabrinha, NP,
Stickybumps, Baby-G
How long have you been kitesurfing? Eight years
How did you get into kiting?
My dad used to be a professional windsurfer back in the day, and then he switched to kiting when that came around. One year during my summer break he decided to teach me and my brother how to kite. I've been hooked ever since.
I saw you pull into a bomb set! What was it like trying to get pitted on a kite?
That was the best session! Even though the wind died and I only got that one. I never had the guts to pull into a barrel with a kite, and I'd never even been close to one on a left. But it was barrelling in the same spot every time, so I knew what to expect, and I was also seeing the guys pull into them. I lucked into a good one on the outside, watched it get shallow on the inside and I could see that it was going to be hollow. I didn't really know what to do with my kite, I just tried to get close to the face and head towards the channel. Next thing I knew, the lip was in front of me and I got washed and came up with my kite in the water. I just went straight rather than out of the barrel haha. But I really can't wait to try it again!
How long have you been dating Keahi?
Over four years.
How did you guys meet?
We met in Hawaii when he came over for a photoshoot with Cabrinha. Keahi, Reo, and Pete were all kiting at my home spot, and he just came up and started talking to me!
I heard you just finished university?
Where did you go and what did you study?
I just graduated from the University of Hawaii with a BFA in graphic design. The last two years in the design program was the hardest I've ever worked. And I had to miss a few kiting sessions for it…
What is a perfect day in Moona's world?
Dawn patrol empty waves, breakfast, yoga, second breakfast, acai bowls for lunch, kiting with wind and waves so good that I don't want to come in until dark, sushi dinner with good people.
What makes you mad?
Dirty dishes sitting in the sink, when Keahi's getting all the good waves, Trump getting elected president.
What makes you happy?
A good forecast on Windguru, scoring a sneaky surf session with only a few people out, Keahi, and food always makes me happy.
You seem to like to surf as much as kite?
I do like to surf a lot. It's perfect because in the mornings there isn't enough wind to kite, and in the middle of the day
it's too windy to surf. So doing both lets me enjoy the waves all day. I think surfing helps me progress in kiting too.
Any crazy kitemare stories?
I haven't had a bad kitemare, but I got close when I wiped out on a wave and my hand got wrapped in my line. I got it out before the kite pulled on it though. My dad had a similar thing where a kite started blowing away on the grass and he ran to catch the kite but someone else tried to grab the bar, and that put tension on the lines. My dad got one of the lines wrapped around his ankle. It cut through the skin pretty deep and would've been much worse if the kite had actually launched.