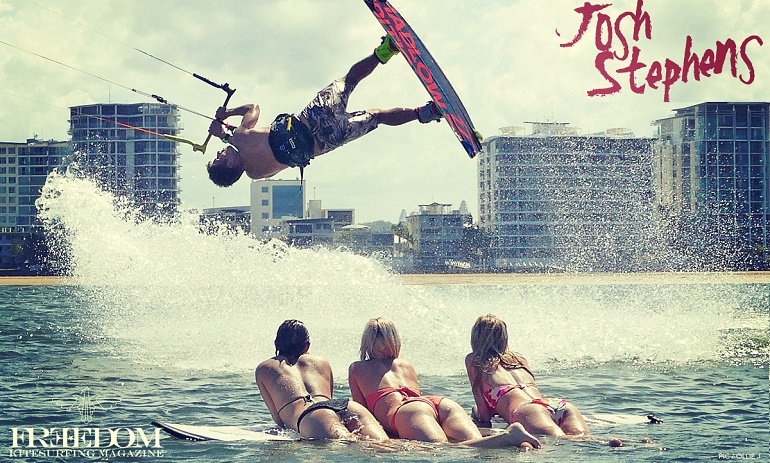 FKM: Hey Josh, i know you must be pumped about the upcoming trip to Morocco (see Josh's trip to chase his PKRA dream on this site) but how are you feeling about missing this year's Nationals?
Josh Stephens: I am very excited and i cant wait to show the world what Australians are made of! I am, however, pretty bummed to be honest, I really want to help push the Australian freestyle scene and help grow the sport back here too!
FKM: Who do you think are the guys to watch in this year's event?
Josh Stephens: If I was the judge I would keep my eye out for Manny Blanch and Kye Evans! They have improved very quickly in a short amount of time. I definitely think they would put the pressure on this year!
FKM: What type of riding do you think will take the prize???
Josh Stephens: Toe side handle passes and powered mobes!
FKM: Kurnell in Sydney is reportedly quite capable of serving up any wind conditions, which riders do you think this could suit?  Are there any certain conditions which you think can particularly favor any riders?
Josh Stephens: If the wind fills in the Melbourne riders such as Aaron Kelly and James Bedford will put on an amazing show! If the wind becomes in lighter, say 15 to 20 knots, the sunny coast boys will have a very good chance of bring home the title! All in all this year will be tough due to the high levels for all the up and coming riders.
FKM: And if you had to name one standout?
Josh Stephens: I'll name 2, Kye Evans and Mr Sweeny would take the cake! That guy is so consistent and can perform in all conditions. (ed. Dan isn't competing as he is non-Australian and can't place in the event, last we heard he would be a judge and we'll get his thoughts on the event in the coming days).
FKM: If there was a best trick category judged across the whole event what and who do you think would take it out?
Josh Stephens: Back mobe 5 by Kye Evans.