To conclude the first annual Hood River Slider Jam, the Slider Project park was fitted with the new obstacles built earlier in the week. In true grass roots fashion, all participants met early in the day to put the new park features in place.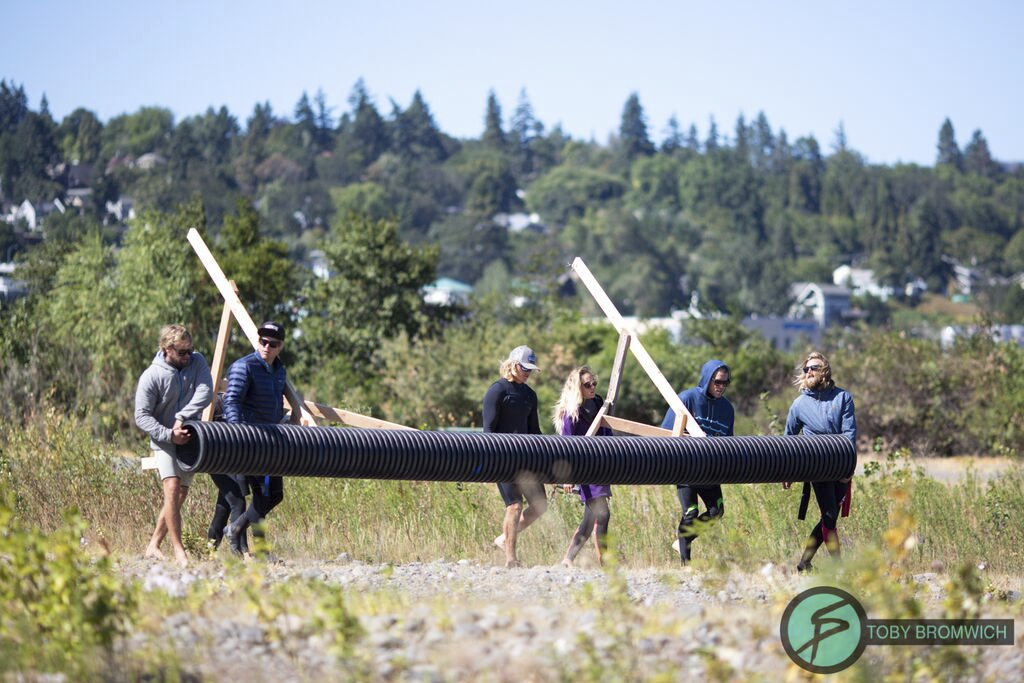 After an efficient couple of hours spent hauling obstacles and fixing them in their designated locales, the park was looking good and was ready to be sessioned. Now with three new features in the park, each more technical than anything ridden in the competition up until this point, riders would be given three opportunities on each feature to place their one best score.
To start the competition for the day, riders sessioned the friendliest of the three new setups, the cheese wedge to flat corrugated tube. Proving to be a fun and relatively easy obstacle to hit, many of the riders landed technical and stylish hits with varying combinations of presses, passes and spins onto/off of the feature.
The second feature to be sessioned for the day was intended to be the up-down to up shotgun however, during the last minutes of warm up the downwind tube was broken when rider, Craig Cunningham hit it at full speed. Then deemed beyond repair, the North Up-Down was instead fitted with the flat corrugated as a step up off the end of the slider.
The third feature incorporated into the day's competition was the refurbished black up pole otherwise known as "Joby's Pole" which was paired with the large smooth flat tube and arranged with a large gap in between the two features. Easily one of the most technical and risky features to ride of the entire event, it required the highest level of riding to complete what would be a high scoring hit.
It was easy to see which riders were accustomed to hitting this style of technical 'backyard' obstacles as it was no problem for them to still land stylish and advanced maneuvers despite the added difficulty. Notable mentions of the day go out to Craig Cunningham, Brandon Scheid, Sam Medysky and Sam Light who will be sure to receive high scores from their peers during judging.
Another standout from the day was Aymeric Martin who has been turning heads in the competition from day 1. A newcomer to the kiteboarding park scene, Aymeric's riding level has been quickly on the rise possibly due in part to his all in mentality and determination. Taking a bad crash during warm ups on the up to flat tube leaving him bleeding and bruised but generally okay, he stayed in it until the end claiming some nice hits and also painful diggers.
The action is wrapped up for the competition with the conclusion of the 'Build Section'. Riders will gather once more to judge the last two riding sections and announce winners. For results, make sure to follow The Slider Project Facebook and Instagram.