From Issue 5 – you can buy it here!
PHOTOS TAKEN BY MATT STEVENS
Location


A windy winter escape doesn't mean you have to leave Australia. While the bottom half of the country shivers through the dark days of winter the top end enjoys warm, long, trade wind-filled days.
No one has captured it better than Australian Kite Surfari. As founder Ant Hadleigh told us, "Our camp runs on solar and wind turbines. Our water is pure and straight from the dunes and filtered for hundreds of years through the silica sand."
"We have a substantial veg garden. We aim to provide 50% organic veg by the end of next season. The goal is to be 100% self sufficient in a few years. The menu is continually being upgraded with more emphasis on health," Ant said.
It's isolated too – that means time to focus on your kiting.
"The nearest neighbours are kilometres away. The nearest pub is over an hour drive, we can only get into or out of the camp at low tide. When the tide comes in we are land locked."
Conditions
"There are very few places on this planet you can live this life and it's right here in Australia," Ant said.
The area is Aboriginal land, not a public beach, making access truly restricted to Ant and his guests and crowds an impossibility.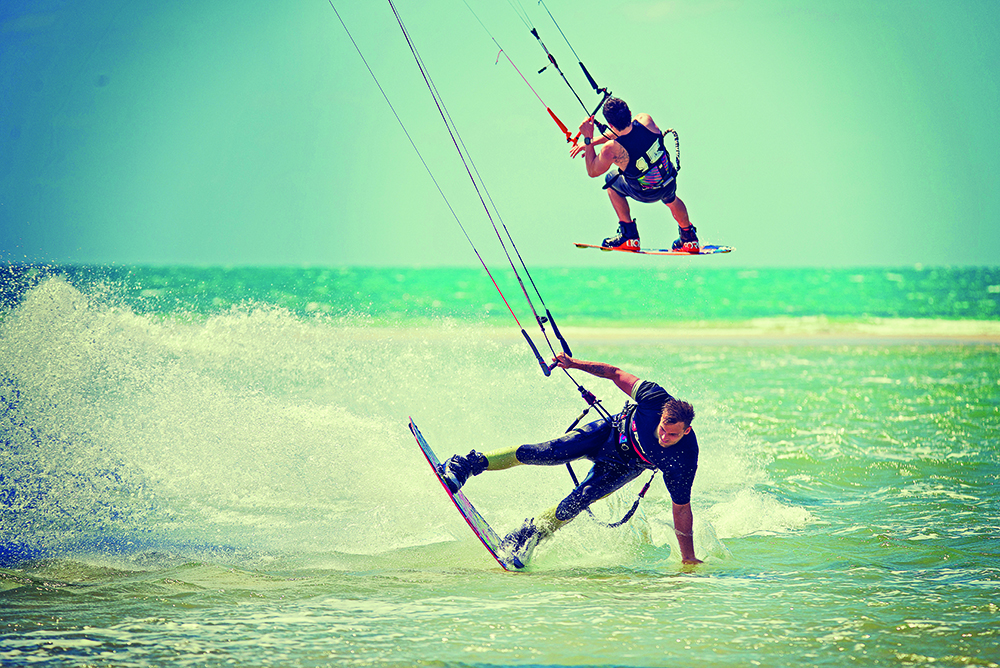 AKS has developed a reputation that speaks for itself. The 24-hour wind graph on the front page of their website backs it up. This wind can power all the kiting you can handle in the kilometres of waist-deep flat-water lagoons, with soft silica sand that's easy on your feet or your gear. If you have a kitemare you can walk to shore, but there is a support boat at the ready if needed.
The lovingly dubbed 'Tank Town' provides guests with comfortable eco-style cabin accommodation, with enough luxury to provide a completely comfortable kiting holiday. What should you expect? Enclosed cabins with thatched roof, louvered windows with absolute beachfront views, comfortable beds, rugs and even artwork.
The cabin- are solar- powered, providing an all-weather retreat for our guests.
The cabins double and twin share cabins are solar-powered, providing an all-weather retreat for our guests.
Other Activities
Aside from soaking in one of the most remote coastal areas in the country there's still plenty to do if your arms can't take any more screaming lagoon runs. Choose from fishing, crabbing, sand surfing, kite buggying or just enjoying the views and scenery of this magnificent and remote location. You can even meet one of the traditional owners for a cultural experience if you'd like.
Travel Information
Australian Kite Surfaris offer pick ups from Cairns and Port Douglas taking you straight up the road less travelled through historic Cooktown until you reach Tank Town.
Best time to visit
The season is long and windy and AKS offer several 4 day and 7 day slots throughout.
Four Day Dates – 2016
May 1 – May 4 // May 26 – May 29 // Jun 11 – Jun 14 // Jun 26 – Jun 29 // Jul 26 – Jul 29
Jul 30 – Aug 2 // Aug 23 – Aug 26 // Aug 28 – Aug 31 // Sep 1 – Sep 4 // Sep 6 – Sep 9
Sep 19 – Sep 22 // Oct 1 – Oct 4 // Oct 22 – Oct 25
Seven Day Dates – 2016
May 15 – May 21 // Jun 18 – Jun 24 // Jul 2 – Jul 8 // Jul 10 – Jul 16 // Jul 18 – Jul 24
Aug 6 – Aug 12 // Aug 14 – Aug 20 // Sep 11 – Sep 17 // Sep 24 – Sep 30 // Oct 8 – Oct 14
For more information, Please visit: WWW.AUSTRALIANKITESURFARI.COM.AU