"It's been a while since my last session on the F-One Bandit. For some time the "kite that does it all" ruled my local haunt. Back then (2010) it looked cool but behaved like a bad (but powerful) pet monkey.
I recently got to jump on the 10th year anniversary 2017 model and I must say it is about as smooth a ride as you can get! Incredibly light bar pressure, fast turning with full power throughout the turn without any nasty back stalling, and still that incredible boost that bandit's were/are well known for." Ollie J Editor
In the latest issue of Freedom (available here) we spoke to Jack Cedric Jacquot the new Australian distributor for the brand on some recent advancements for the biggest European brand set to once again rule Australia…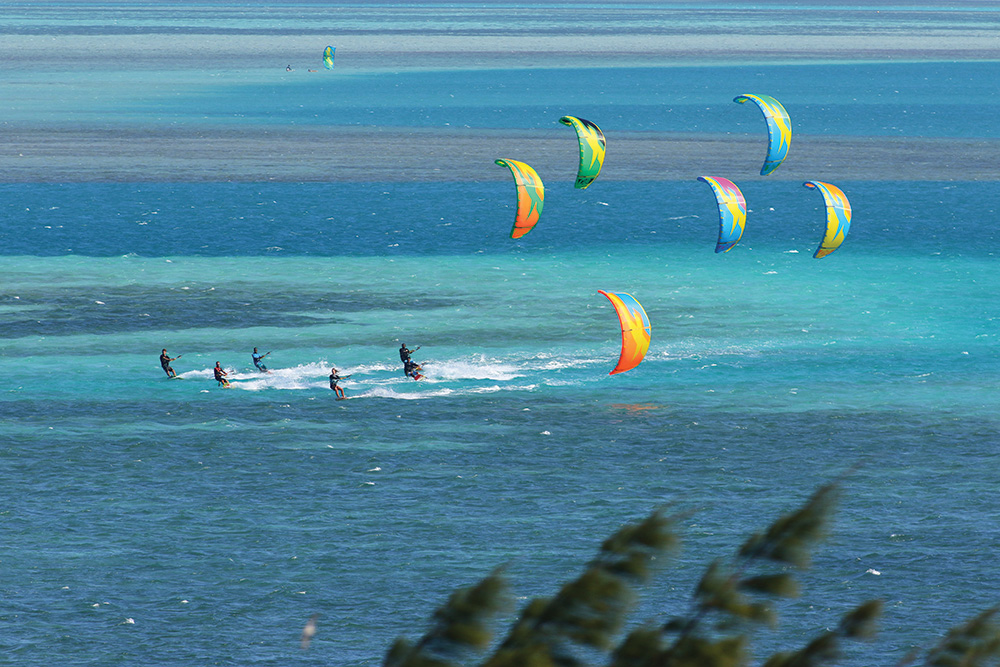 F-One Australia has landed in the popular, always well received and well rounded F-One Bandit 10th edition.   F-one has been doing some demo days with schools and shops with the feedback being positive.  F-One has designed a kite that delivers clean power throughout the bar, power that you need and power that is dropped when you don't need it.
F-One has always prided itself on year-round product development with the Bandit series. Many kiters say that the kite never changes. This is not the case as F-One is pushing to evolve the kite to the next level that suits the current riding trends globally. F-One has made the Bandit its bread and butter kite. It's a dynamic wave kite with great all-round wave riding ability.  Whether you are kiting in onshore conditions and need a kite that turns really well with every movement or you are just kiting in down-the-line barrels, this kite does it all very well. The F-One Bandit also has a great freeride/freestyle/wakestyle feeling. The Bandit delivers direct bar pressure so you know exactly how much power you have right before you enter a trick.
F-One have also included in their series some specific kites designed for specific purposes. For foiling, F-One has released the Breeze V1. A single-strut kite, the Breeze is very lightweight. It has slightly squarer tips than the Bandit, which allows for reverse relaunch. The Breeze gets up to speed quite quickly and allows the rider to hold the speed. The Breeze V1 comes in an 11m/13/15m.
F-One have also released the Furtive V1. Originally released as a speed kite to try and break records, the F-One development team quickly found out that this kite was also an amazing freeride and boosting kite. The Furtive possesses awesome hang time and is an amazing foiling kite for distance as well as speed.

F-One has also been working with GIN GLIDERS PARAGLIDING on the Diablo V2.  The Diablo is an amazing paragliding kite that has done well on the world circuit.  F-One has made some changes this year to the Diablo to match the avid foiler's needs.  By adding more cells and changing the aspect ratio, the Diablo tracks better upwind and has bar pressure simular to an inflatable kite. The Diablo V2 also possesses amazing power with great wind range and clean turning ability, which is key when foiling.
F-One have also released some foils to coincide with the kites. The main two being a Hybrid Aluminium/Carbon Freeride 600 and a full Carbon Freeride 600. The Hybrid Freeride 600 comes as a 75cm or 90cm mast. The full carbon 600 comes as a 95cm or 105cm mast. All foils come with the option of choosing different wing shapes. In general, a race wing has less surface area giving you more speed. More surface area gives you easier lift, but more drag.
For more information visit www.proteusdistribution.com