Ewan has had a tough couple of years via a series of injury set backs. Anyway, don't worry about that now, he's set to ride in the 2015 Triple S starting this Saturday. We caught up with him as he settled into Hatteras waiting for the wind to arrive.
FKM: Hey Ewan, I hear you've landed in Hatteras. How is it over there?
EJ: Hey Guys, yeah we landed at midnight a few days ago and after some complications with the car we ended up getting in at 4am with some heavy jet lag, luckily I was back up at 7am for a Big Waves Breakfast Burrito. No wind so far which has been nice to relax after the long trip, but after 2.5 days we are already getting a bit of an itch for some!
FKM: How are you feeling for the event? What are your expectations?
EJ:I'm feeling alright. It's my first event for a long time so to be honest I'm not expecting big things. It's great to be back here and catch up with familiar faces and I can't wait to hit some of the features. They have all just been wrapped again and are looking enticing. It's not every day you get to kite such a good park so I'm really just going to make the most of it!
FKM: Your first event back, I know you've spoken about injury enough but how is everything feeling? Will you be able to go at this event 100%?
EJ:I haven't actually kited a whole lot yet, but I rode at cable last weekend and felt good. A bit sore, but good!
FKM: You've ridden in the Triple S before, where do you see the event sitting within the sport?
EJ:I see the event growing every year. I've only attended once before but even since 2013 it seems to have taken another step up. A lot of people have made the trip and there seems to be a lot of hype leading up to day 1. I really see the comp as being at the forefront of kiteboarding year in – year out. The organisational skills involved in making the event happen on time every year and the media coverage that it brings is unmatched within the industry, and it's only going to get better.
FKM: Who are you most looking forward to riding with through the event?
EJ: Really it's the whole crew. Nothing like this happens elsewhere throughout the year and its one place everyone pushes themselves hard and its a good relaxed environment which makes it fun.
FKM: Who are your tips to take it out and why?
EJ: It's hard to say as I haven't seen many people riding and its 100% features this year. I guess the usual top guys will be up there (Sam Light, Brandon Scheid, Aaron Hadlow), but there have been a lot of guys who have stepped it up over the last year in video parts etc. Sam seems to have been riding a lot at the cable park as well which has really stepped up his rail game. Brandon and Eric Rienstra have been spending solid time riding the park recently so should be very consistent, and Aaron will be on it as always. But, as I said there are so many other riders now that could do well so it's tough.
FKM: The format has shifted right towards the sliders, how does this affect your approach? How do you see it affecting the event overall?
EJ: I guess it's just for the one year, but at the moment I'm pretty out of practice with a lot of the tricks off the water, so sliders will be nice as you can push it hard and not have heavy landings. I see the event using this year to really celebrate what the Triple S is all about, Sliders!
FKM: What gear will you be riding in the event? How do riding obstacles affect the gear you ride?
EJ: I'll be riding the Torch, as ever. Its pretty perfect for everything unhooked. I'm also riding my Naish Antic which is a great durable rail board, alongside my Hyperlite System bindings, it's a set up that works super well for me. Obstacles force you to have gear that is built well, but also has high performance. The gear you want is a board with a good bit of rocker and as for the kite, it doesn't matter as much on obstacles as its more just something to pull you!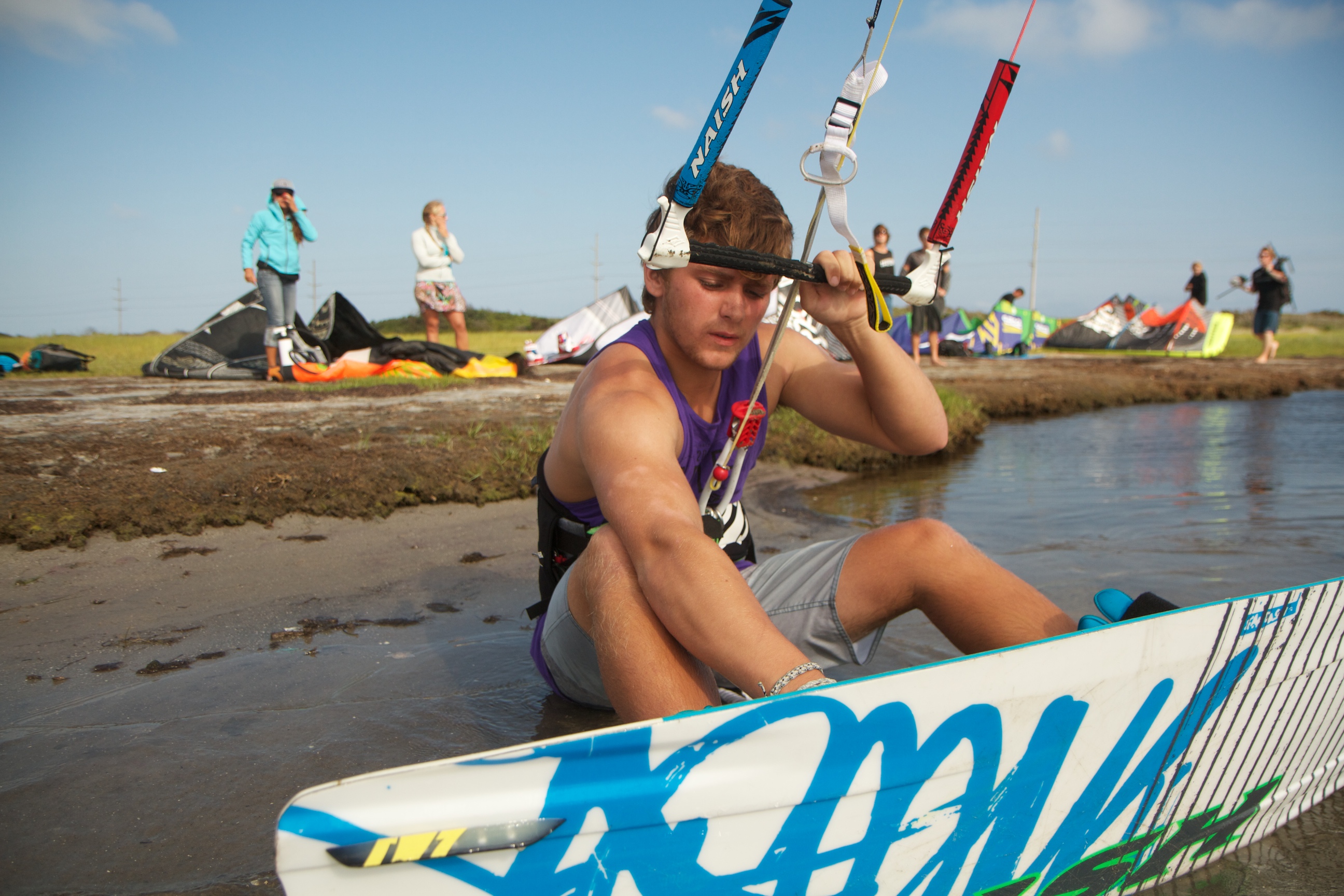 FKM: Aussies were fairly proactive in the obstacle/wake style area back in the day, do you think that's still the case? If not, why do you think this is?
EJ: Lately we see so many kids getting stoked on getting back into the 'wakestyle' scene. It did seem for a while that we had lost this, but it's gaining momentum again. I'm not sure why it happened, as the sport continued to grow the groms weren't emerging for a few years. Fast track to now and we have heaps of up and coming riders who I'm sure will be competing at the Triple S in years to come and shredding around the world.
FKM: What are your plans for the rest of the winter (Northern Hemi Summer)? Are you planning on getting to any other events or doing any other travel on this trip?
EJ: From here I head to Maui for the dealer meetings with my girlfriend Katie. Maui is always a great time so I'm looking forward to the whole place, not just the kiting. From there we go to Hood river and hope to spend a month there. That place is one that I've wanted to visit for years. It just seems like is has the best lifestyle and great kiting to go alongside it. Not only that but it seems there will be a great crew this year and possibly some great events as well. I'll be doing my best to keep my trip well documented, so look out for that!
FKM: Best of luck for the event. We'll be following each day and look forward to seeing you in the highlights!
EJ: Thanks mate, hope it goes well. Looking forward to it as well and seeing all your coverage!