Dale Stanton won the twin tip division of the Lighthouse to Leighton race on a 10+ year old board he 'found' in the garage. We got his thoughts on the race, race gear from this decade and the upcoming Lancelin Ocean Classic…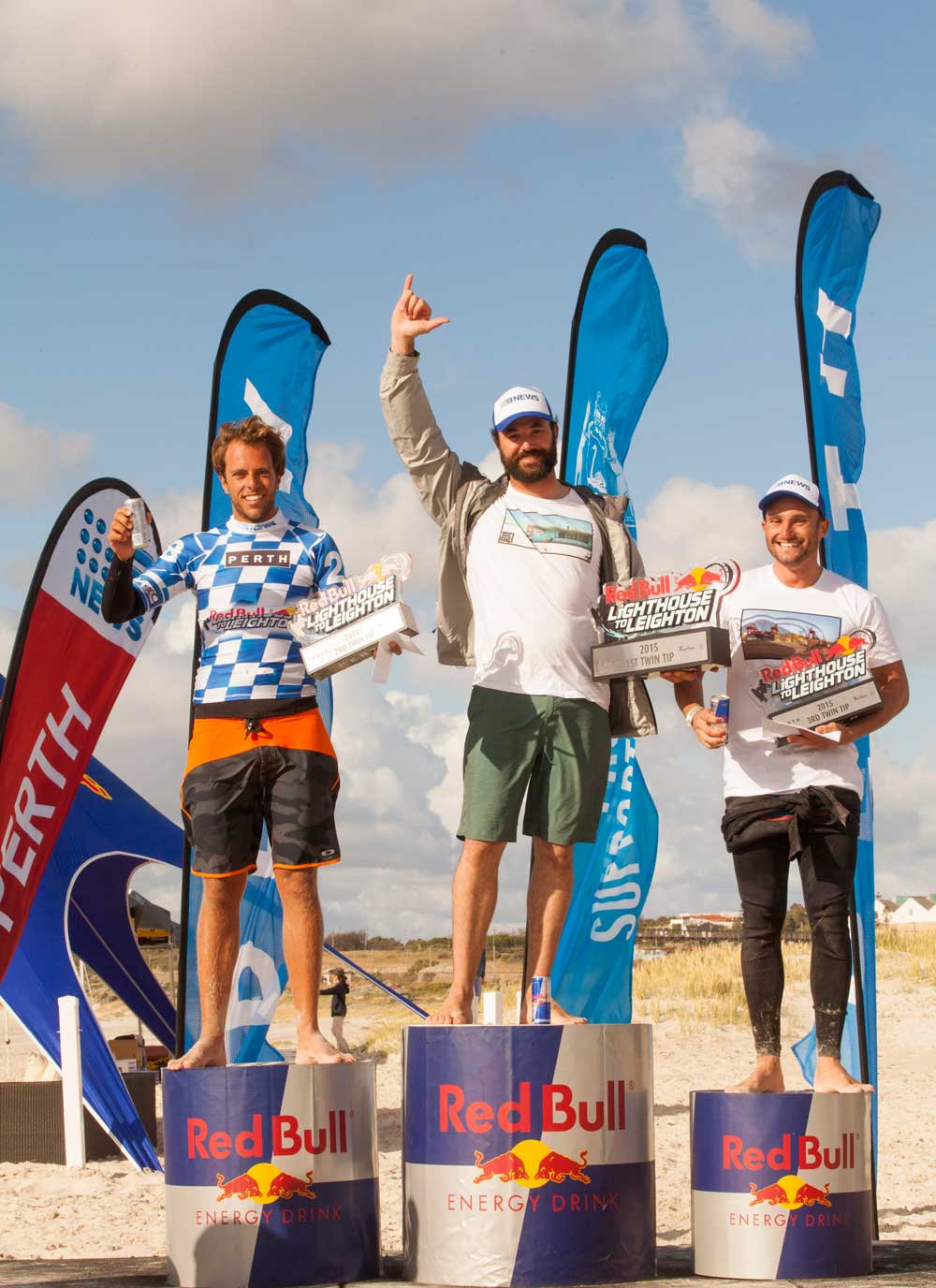 FKM: Congrats Dale, you took out the twin tip category (and weren't too far off the foils on 10+ year old board!), what convinced you to ride a twin-tip in this year's race? How did you choose your twin tip for the event?
DS: I entered the twin tip category for a few reasons, the first being that I have completed the crossing on a foil, race board, standard kite surf board and some custom slalom style boards. The next choice was a twin tip… back to where it all began! The other reason is I no longer have any race gear and found my old 2004 icon that I used in the Geraldton National Freestyle titles. It was an epic board for freestyle and is super fast. I thought it would be half a chance to win on it.
FKM: What type of speeds do you think were achieved in this year's race?
DS: With the wind dropping out for all competitors in the last couple of km, the times are completely blown out. For this race when there was wind, probably in the 23-25 knot mark based on experience..
FKM: What do you make of the "serious" race scene and it's equipment? Is specific gear a necessity to be competitive these days?
DS: I've already had a Spotz 1 foil it was wicked fun, I sold it a couple of seasons ago with the intent of upgrading.. Its an amazing piece of equipment. Its epic to see the major kite brands making hybrid versions that double as a skimboard/surfboard and at a reasonable price. Hudson rode the new cabrinha model in the race. The race scene is definitely all foils now and still evolving but nearing its peak in terms of development. I'm looking to work on another secret board design for the L2L specifically for a 25 knot day and 2-3m swell with lots of weed. One day we'll see these conditions and the foils will fall to pieces :-).
For now I'll be trying to convince Cabrinha to remake the Icon for 2016, a limited edition model. The L2L special!
FKM: The Lancelin Ocean Classic promises another opportunity for WA's growing distance race scene continue evolving, what are you looking forward to up there?
DS: The Lancelin Ocean Classic will also sort out the foils and could very well be won by a twin tip or surfboard because of the amount of weed and swell up there… I can't wait!!!!!
It's fantastic to be racing with the windsurfers on the same day to see how the times compare.
For more information visit www.lighthouse2leighton.com.au
Results:
Title, Name, Time,
Male 1st : Peter McKewen (WA) 34.39
Male 2nd : Andrew Cooksley (WA) 34.41
Male 3rd : Martin Dolenc (Croatia) 35.2
Female 1st : Stephanie Bridge (UK) 37.47
Female 2nd : Alison Child (Qld) 40.54
Female 3rd : Larissa Roth (WA) 41
1st Twin Tip : Dale Stanton (WA) 38.42
2nd Twin Tip : Floris Dielen (Qld) 40.32
3rd Twin Tip : Matt Curran (WA)
Marc Sprod Memorial Trophy : Peter McKewen (WA) 34.39