Freedom caught up with the Colleen Carroll right as the event was looking like going windless. We caught up again to update this interview after the wind came up and Colleen took out the women's title for the 3rd year running. WE decided to combine the 2 so you get double the fix!
FKM: What does winning the Triple S mean to you? Where does it stand in the world of competitive kiteboarding?
Colleen: Over the year's Triple-S has warranted a reputation as the most prestigious 'wake style' event in the world. Not to mention it is the best known event in North America and is highly regarded on a world wide level. Even to be involved in an event of this magnitude is a privilege and for me winning the Triple-S is the most important moment of my year.
FKM: What other competitions do you do each year?
Colleen:I really don't do too many competitions. I participate in as many of the local Hood River events as I can each summer, usually Kiteboard 4 Cancer, Bridge of the Gods and Hood River Huckfest. I'll also participate in other local events if it works out with my travel schedule. I'd love to make it up to Rail Masters someday as this is another great rail event but we'll see.
FKM: The Triple S has insane media coverage (stand by for Freedom Issue 3's feature on this year's event), how do your sponsors reward you for taking out an event in such a spotlight?
Colleen:North in particular holds the Triple-S in very high regard and not only supports me during the event but all year round stands behind me to work on slider projects. Last year they even custom built a HDPE 70ft long roof top in Hood River so that we could round out our public slider park there.
FKM: Next year where do you see the advances in the women's standard coming from? Who's your biggest threat and how are you going to keep them at bay?
Colleen:We had a few new faces on the scene this year, one of which is my teammate Manuela Jungo who I know is very motivated to up her game in the park over this next year. However, the really tough competition has steadily come from my good friend and riding buddy, Sensi Graves. I think next year will be an even tighter race between the two of us as I know she is more motivated than ever to progress her riding to the next level. While I know the other girls are excited to improve their park riding, I'm also looking forward to stepping up my game and focus even more on riding features over the next year.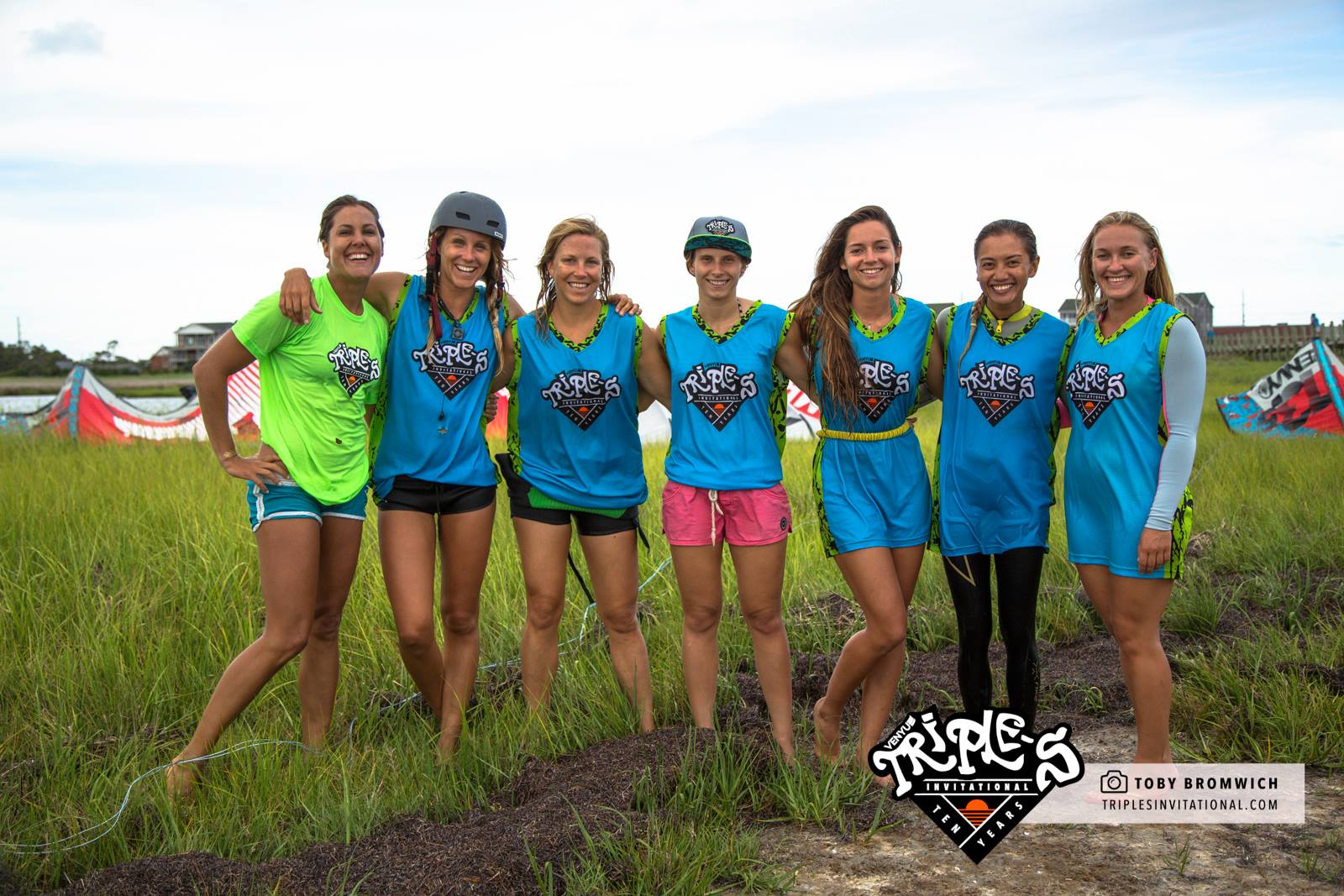 FKM: So, not much wind through the early stages of this year's event, how did you stay busy?
Colleen:I actually did quite a bit of surfing. I'm still learning but there are tons of fun breaks around this area and most of the other riders surf so it's been great to have a crew to go play with.
FKM: Did you get many other sessions other than the final day?
Colleen:Yes, we have had a few sessions. They were brief but we stayed on top of any chance for wind. The North team house is as close to the slick as possible so we can see everything from here and get out there at the slightest chance for a session.
FKM: The Triple S is renowned as a huge event on and off the water. How's the off water action going so far this year?
Colleen:This year has been a bit different for parties. The nightly shows/parties at REAL have been on point as always but the after party scene has been a bit mellower this year. I think it's because we've been constantly on hold waiting for any sign that we can run the event and riders want to be ready to go.
FKM: The park set up was completely different than in years past, what was it like riding in the event this year?
Colleen:It was really challenging conditions this year for both the riders and event organizers. The wind direction we had on Friday was one of the most unusual directions for here and one that normally we would never set the park up in. The organizers came up with a layout where the features were along the side and back side of the slick which meant they were all in somewhat choppy water. It was the best solution possible but did add an additional element of difficulty for the competitors.
FKM: Tell us a bit about the competition on the women's side, did you feel confident in your ability to win the event?
Colleen:Not at all. Finishing the day I felt that while I had tried my best, I still didn't perform at the level I had hoped to and in the little bit I had seen the other girls ride, I knew it was going to be very close. Especially with second place winner, Sensi Graves, who had been riding really well all day, I knew it was a really tight race between the two of us.
FKM: So what comes next? Are you headed straight into another trip/event or do you get to relax for a while?
Colleen:I'm actually staying for one more week in Cape Hatteras with the rest of my North teammates to shoot a bit with Toby Bromwich and hopefully score a few progression sessions in the park. We have this awesome house right on the slick and the forecast looks amazing for the coming week. Wish we had had these conditions last week!