Ben Wilson hosts kite surf camps at some unique and beautiful places around the world. One being Punta San Carlos in Mexico… the wave.. it's all about the wave…
Ben: It's a really long point break-style wave. It's not too steep and it's just perfect to be able to dial in doing foundation-style stuff like top to bottom, your bottom turn, your top turn, going down the line, drifting your kite. It's just built for somebody who's trying to perfect their wave riding.
What I find with that camp in particular is, when we get good conditions, people progress so quickly because they put what I'm teaching them into practise and we go back at the end of the day and we break it down and we just keep refining it. The wind is typically side shore, so it's really nice to be able to just park your kite and really focus on being able to ride the wave.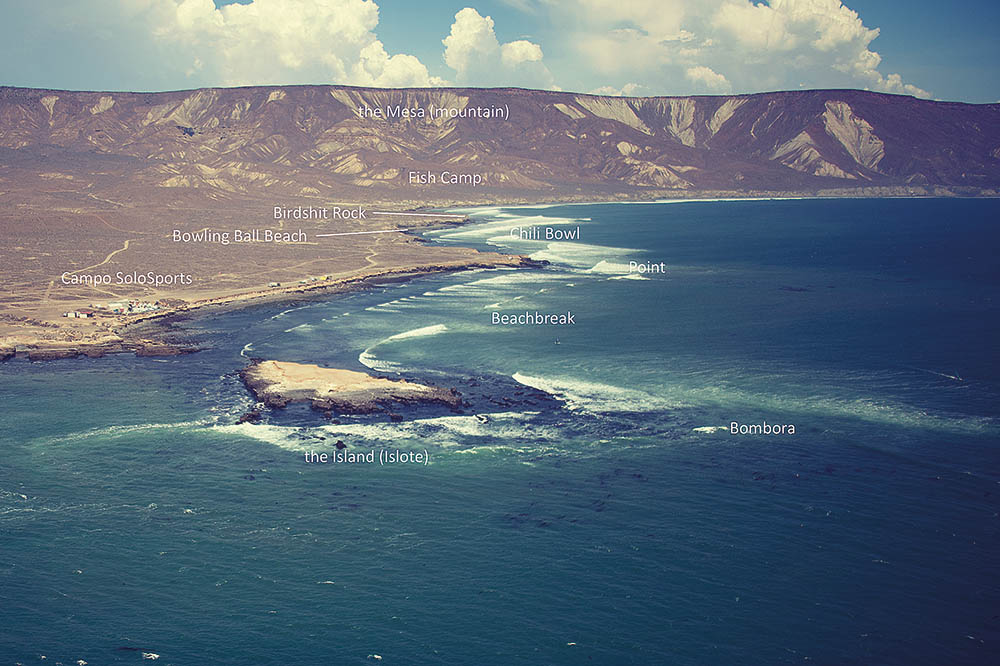 Is it still a relatively manageable wave when it's large?
Yeah, it's one of the easiest waves you're ever going to kite, even when it is big. It's just so mellow and like I said, it's not top to bottom barrels or anything, it's just long peeling waves.
How long are we talking?
There are a number of different sections, but really it's probably over a good mile, I'd say.
That's awesome. And what happens when someone crashes in the water out here? Is it heavy with all the rocks?
Yeah, it's not the most user-friendly place when stuff goes wrong. However, because the wave's so mellow, it's not life or death. Typically, if something goes wrong I'll come out or one of my team will come out and support the person that's got an issue and it's usually just dealt with depending on the situation in terms of how we get in. I've got a good team that's there for safety.
Are they on boats or jet skis?
Mostly we just kite out and help, but we also have a boat.
And what's the camp in Mexico like? It's not a resort-style thing like Namotu is?
No, it's camping. The tents are all set up, so you get your own private tent. And then the guys down there have set up a really great viewing platform where you land and you launch your kites and you can sit there right in front of the wave where everybody's kiting, They've got a great bar and food, plus a hangout room with a pool table and TV. It's camping but it's a luxury version.
And what's the food like?
The food's amazing. There's so much food to eat. You're served breakfast, lunch and dinner, plus snacks in between.
Do they still have Mexican night in Mexico?
We try and make them cook at least a couple of Mexican meals every day.
What about getting to and from? If someone wanted to go on one of your camps, they just organise their own flights and they get picked up, or what happens?
From San Diego we have a charter plane, which everybody gets on. Then we fly straight to the camp. It's basically just a quick hop over the border and down the Baja Coast, so it's pretty easy. This trip is also unique in the sense that you don't bring any gear with you, just your personal items, a wetsuit and some clothes. We have all the gear waiting for you when you arrive. And we don't just have BWS gear, there are a number of different brands that the camp holds down there.
That's cool. And how many camps are you doing there this year? How many people on each camp?
We do two seven-day camps with ten people in total for both camps.
> Visit www.benwilsoncoaching.com or to check the camp visit: www.solosports.net
More travel destinations in issue 05 of the magazine!