Triple S time means that all eyes will be on Hatteras and inevitably when we talk wake style kiteboarding we think Andre Phillip. We caught up with the man who has been dubbed (and shunned) the name the Godfather of the Triple S.
FKM: So the Triple S turns 10 – what has the event meant to your career?
Dre: The Triple S been my favourite kiteboarding event to date. I left competition when I stopped doing the PKRA world tour. I started going to the Outer Banks, North Carolina and realized there were a whole bunch of people there who were on the same page as I was… so I'd go shred and build stuff with the crew. The Triple S was a natural progression of what people were doing over there and it's been so fun that it keeps pulling me back! I feel honored to be invited back every year to ride amongst the best in the world and it's good to see that the park style of riding keep growing. The event probably helped my career since I did well over the years but what meant the most to me is all of the great moments and friends that I've gained over the years. Priceless!
It's pretty crazy to think this is now 10 year old footage… Style is eternal!
FKM: How many have you won?
Dre: I never kept track of my winnings there. I've been up on the podium a bunch for different categories and over all but for me it was just awesome to shred with the homies.
FKM: What's the best session you've ever had at the event?
Dre: Dam, in 10 years, they've been a few!! The Red Bull fun box session where there were a few of us gapping to the top of the rail was pretty epic. Or when REAL setup the kicker so you had to launch over the slick island or when the gap was taken out of the John Wayne A frame… that resulted in a few sick gaps and a few mean wipeouts! Honestly there were so many good ones… maybe the early days when it wasn't crowded.. haha! What is cool is that people feed off of each other and very often a frenzy of people giving it their all and it's normally those sessions that stand out for me. It's cool to see everyone pushing themselves.
FKM: What's the best session you've ever seen anyone throw down?
Dre: Again there were definitely a bunch. I was always inspired by some of Dylan Thompson's sessions… He was a prime example of good style and premium board skills!
FKM: What do you think the Triple S has done to influence the development of the sport of Kiteboarding?
Dre: I'm not sure if much people remember but there was a time when only a handful of kiteboarder's rode boots, built sliders/kickers and lived the park style of riding. This style of kiteboarding was very small and dying out but thanks to a few soldiers who lived for this style as well as the Triple S you can see that all of this helped develop the sport to what it is today.
FKM: 10 years on, how are you going to keep pushing the level to take it to the kids?
Dre: I'm just gonna go out there and shred with them. It's all about shredding with the homies and having fun… that's where I get my push.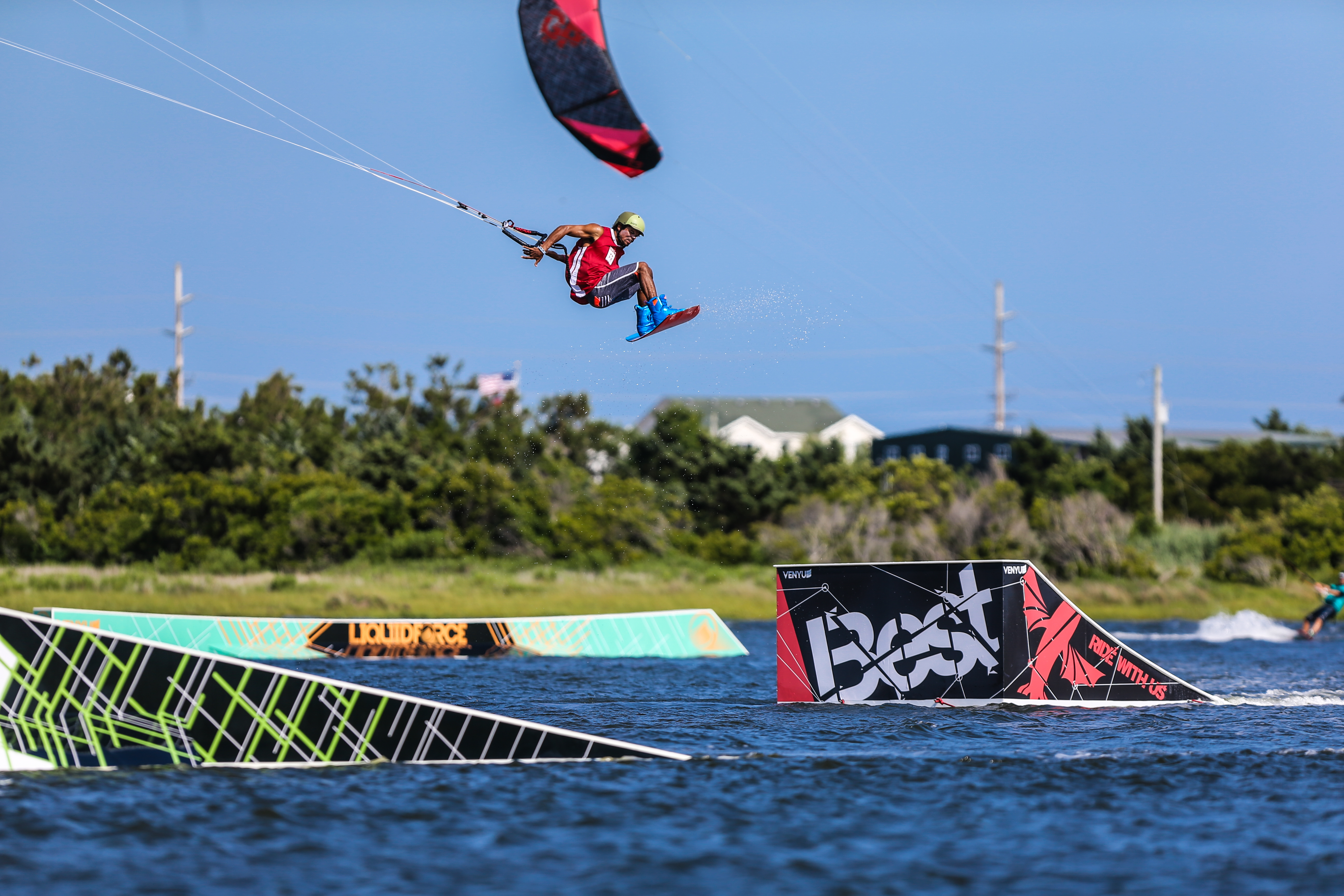 FKM: Who are you going to be watching in the event? What are you expecting from them?
Dre: Sam Light is always a good person to watch. He rides a lot of cable and he's really consistent behind the kite, especially at spinning so hopefully we will see some 900's or maybe even a 1080?
FKM: Your gear has evolved over the years, from one of the only guys out there in boots to a company owner, where are you taking your equipment with Tona and with your other sponsors these days and where do you see it heading for the masses?
Dre: It's funny you ask. I have always been the type of person to be very particular about my gear. Something as simple as my lines being off by a couple centimeters causing my kite to pull one way or something weird happening with the way my board rides would really bother me!! I think being so particular has me extremely sensitive to small changes in design and how that translates to how a board or kite feels/rides. So I guess you could say I'm very anal about how my gear feels. At Tona we like to take our time and make gear that feels really good, even to people like me who criticizes gear heavily. We love being on the water and it's important to us to have gear that feels like an extension of the body. This way we can just focus on having fun!
Dre with Susi Mai and Jake Kelsick back in 2009. Now all team mates at Tona and still ripping!
FKM: How does the title 'Godfather of the Triple S' sit with you?
Dre: Mauricio Abreu was dubbed Godfather of kiteboarding some time ago so I don't think it would be right to take any light from that. He's done so much for kiteboarding and has been one of the guys carrying the torch that is the Triple S today. People call me 'POPS' at home but 'POPS of the triple S doesn't really have a ring to it. Why you wanna give me that title anyways? You think I'm getting old?
FKM: Certainly not! We're still happy watching and looking forward to another epic showing at this year's event. Best of luck Dre!
Dre's Triple S 2013 highlights give a taste of what to look forward to from the 30th of June, 2015. We'll bring you all the latest right here!