Who better to run us through the highlights of the 2016 Triple S Invitational than one of the event's pioneers, Andre Philip…

Riders
The level of riding has been going up every year and this year wasn't any different. There is a whole bag of people who would find themselves on the podium if they could just hold things together but Sam Light, Noe Font and Christopher Tack were the standouts.
Sam has been dominating the podium for the past 4 years and rightfully so. He has been kiting a lot and his consistency and technical ability in the park is what sets him apart. No matter what he seems to land on his feet. I'd guess that having a cable park close to his home in England may have something to do with his consistency in the kite park. Either way Sam is killing it out there every session and it doesn't seem like he wants to get off the podium anytime soon.
Noe is creeping up the ladder. I remember seeing this kid for the first time last year and feeling a sigh of relief that there are some really talented kids coming up who are going to be here for a while and you're gonna want to keep an eye on.
Christopher Tack stepped up his park game and was the first to land a 900 off a kicker in competition and the way he's spinning I'm sure it won't be long until he gets that 1080.
The girls were on another level this year… trust me if you are a dood and you enjoy the spotlight out on the water you don't want any of these girls showing up… they will probably make you look bad as they are ripping and it was a feisty fight to the top!

Parties
The Triple – S always bring some fun parties and every night there is live entertainment happening on the back patio of Real watersports complex!
This year for me it was DJ Chela, Dubplates and Tanya Stephens that made the back yard sessions so good and the WindVoyager after party was pumping as well.
The jam session on the back patio normally starts just before sunset when the day is winding down. You'll still be seeing action out on the water but people will be coming in shortly to grab a drink and some food and enjoy the vibes.
I can't really say much about the Sensi bikini fashion show and fundraiser since every year the girls put on an amazing show. There's also lots of prizes up for auction that benefit the Hatteras Island Youth Education Fund.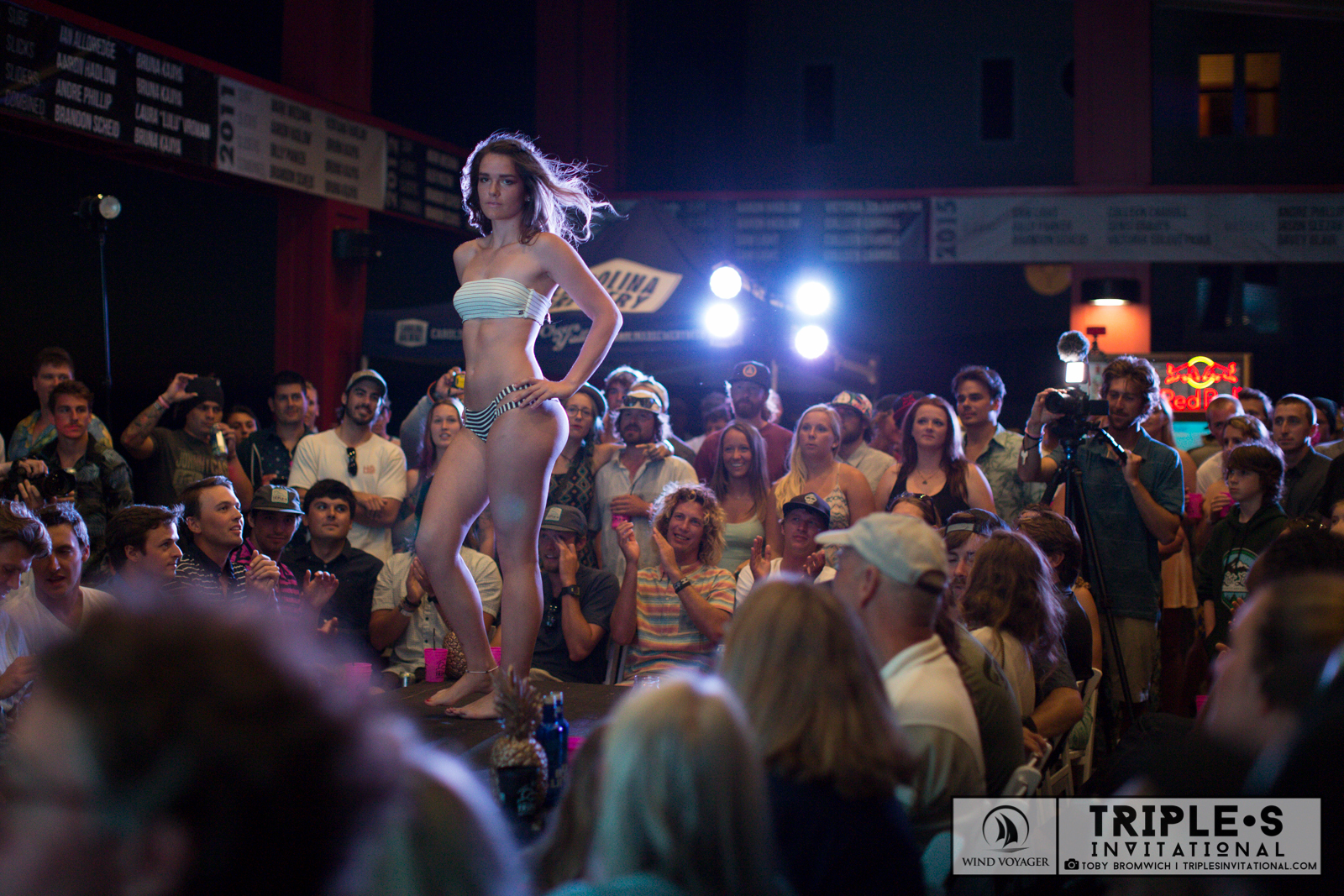 When things start to hit the after hrs the is sometimes an after party that pops up somewhere, usually at a classic OBX 4 story beach house. So there's always something going on in every floor… poolside chatter, games room action, dance floor mayhem etc. Just a bunch of wind junkies having a good time.
Tricks
Lots of big tricks went down on all the features but the stand out features had to be the big kicker and the John Wayne A-frame.
The John Wayne saw some big spins over the gap and Tack nailing the 900 off the kicker and many others sticking some technical spins and inverts.